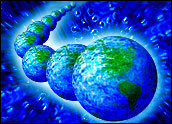 Like every other Consumer Electronics Show (CES) I've attended, CES 2012 was one of the weirder, more ephemeral, and most compelling technology events of the season. Weird because since CES acts as an essentially level playing field for both the ridiculous and sublime, you can literally demo a pricey next-gen OLED TV while a couple of dozen feet away vendors are hawking bulk wiring harnesses, electrical connectors and gizmos of every kind. Ephemeral since so many of the products and "trends" being pimped by the Consumer Electronics Association (CEA), which runs the show, and attending vendors end up going nowhere but down the memory toilet.
Every once in a while, though, a compelling new technology or idea comes along that could fundamentally alter the competitive landscape. Intel's introduction of what it called the "new era of computing" enabled by its Ultrabook technologies is one of those ideas.
A New Class of Computing?
If "Ultrabook" sounds familiar, it should. Intel launched the initiative last May at Computex 2011 and then in October announced a US$300 million fund for Ultrabook research and marketing efforts. A number of OEMs have already delivered Ultrabooks. The ASUS Zenbook was reportedly the first, and the week before CES, Lenovo delivered one designed specifically for the workplace: the Thinkpad T430u. So what's the big deal? Does the Ultrabook really represent an essentially new class of mobile computing device as Intel suggests, or is it simply an attempt by the company and its OEM customers to divert attention away from competing vendors/products, like Apple's iPad, that have been stealing the thunder once reserved for traditional laptops and PCs?
That latter view may be arguable, with a few caveats, in the case of some first-generation Ultrabooks. Case in point: the ASUS Zenbook bears an uncanny resemblance to the Macbook Air (though new versions shown at CES, in colors other than the original's brushed aluminum silver, look significantly different). While some of the 75-plus Ultrabooks currently in the pipeline are thinner than their vendors' previous laptop models (about three-quarters of an inch is the current standard thickness when closed), slimness appears to be their greatest innovation.
However, judging the intentions of all by a lack of vision among a few is typically a losing proposition. A far more innovative approach is clear in a handful of the Ultrabooks announced at CES 2012, including Dell's new XPS 13, Lenovo's IdeaPad Yoga and HP's Envy Spectre.
Taking Ultra to an Extreme – Dell's XPS 13
Dell's XPS products are not as widely-known as its established consumer (Inspiron), business (Latitude) and SMB (Vostro) lines but they're getting there. Rather than play to a specific demographic, the XPS blends consumer preferences for high quality looks, graphics and displays with business-class manageability, durability and security. But it is this hybridization of consumer and business features that makes Dell's XPS 13 really stand out.
From a form factor standpoint, the XPS 13 is something of an oddity — Dell calls it a "13-inch laptop in an 11-inch package." Place it next to any other 13-inch laptop — the Macbook Air, for example — and the XPS 13 looks decidedly smaller. But Dell's use of an edge-to-edge "frameless" HD display and slim bezel design means the XPS 13's display is the same size as that of the Macbook Air or any other 13.3-inch laptop. That "less is more" approach is also reflected in the XPS 13's 13-inch form factor keyboard and its tendency to pack heavyweight features into a lightweight 2.99-pound frame.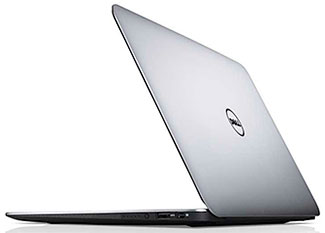 Dell XPS 13
That is partly due to the use of machined aluminum and high-tech carbon fiber in the body of the XPS 13, which look and feel terrific while being remarkably sturdy. But those components have also helped Dell deliver one of the few Ultrabooks in the market that are fully powered — in the sense of delivering systems with Intel's second generation Core i5 and i7 CPUs — while also offering "all day" battery life. Many competitors' Ultrabooks offer just the Core i3 or i5, with few if any including a Core i7 option due to the heat issues inherent in such thin designs.
This blend of style and performance should make the XPS 13 attractive to consumers, but Dell includes features that business users will find especially appealing as well. Intel's Rapid Start technology allows the system to boot in seconds, and the XPS 13 is one of the first Ultrabooks to support Intel's Smart Connect, which allows email, news and system updates to be downloaded while the system is in sleep mode.
The XPS 13 includes Dell's standard Trusted Platform Module for BitLocker Data Encryption and optional ProSupport after-sales service and configuration services such as custom imaging and asset tagging. With a starting price of $999, Dell's XPS 13 takes the Ultrabook concept to an extreme both consumers and businesses can love.
Charting an Ultra Future
Along with the innovations in its current Ultrabook reference architecture, Intel is planning significant changes for future systems, such as those based on the company's upcoming third-generation (Ivy Bridge) Core processors. During Intel's CES 2012 launch event, company VP Mooly Eden invited Peter Mahoney, CEO of Nuance, on stage to announce that the company's Dragon speech recognition software will be integrated in future Ultrabooks. Unlike technologies like Apple's Siri, which rely on cloud-based services to aid speech recognition (apparetnly driving up bandwidth usage significantly), Ivy Bridge CPUs have all the onboard horsepower required to support Dragon's features and functionalities.
Eden also showed off a prototype "Nikiski" laptop, sporting a clear glass panel at the base of the keyboard that works as a touchpad when the clamshell is open and, when closed, serves as a touch-enabled display that provides a means to interact with the system.
Finally, Eden offered a sneak peek at an Intel research project that utilizes a laptop's built-in camera for short range gesture recognition, allowing the user to control the system (in this case, to play a slingshot game) with simple hand motions.
Final Analysis
The slingshot game offered a playful end to an otherwise serious discussion of a technology with significant short- and long-term implications. Yes, some first generation Ultrabooks are simply lighter, slimmer laptops than their vendors currently have in production. In more innovative hands — as demonstrated by Dell's new XPS 13 — leveraging the Ultrabook concept to its logical end can result in what is essentially a new class of personal computing, with fewer boundaries and compromises than ever before.
That is certainly the case today, but Ultrabooks should become even more interesting and innovative as time goes on, when features like speech and gesture recognition become common elements in consumer and business computing. It seems fair to assume that Intel's Ultrabook development efforts were likely a response, at least in part, to an increasingly competitive and fragmented market for personal computing. If so, the Ultrabook launch event and new products introduced at CES 2012 clearly demonstrated that competitive pressure can ultimately result in very good news for Intel, its OEM partners, and their consumer and business customers.