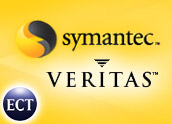 Merger mania found its way back into the software space today, with security firm Symantec saying it would pay US$13.5 billion to acquire Veritas Software.
The deal creates the fourth-largest software firm in the world and with Veritas' storage software and Symantec's strength in security, creates a company that can offer products that extend from the personal computers on an enterprise's desktops to the massive storage hardware in its data center.
Together, the companies expect to have 2005 revenues of about $5 billion, with three-quarters of that total coming from business customers and most of the rest from Symantec's antivirus and related products sold directly to consumers. The companies say that taken together, their businesses are focused on markets worth $35 billion this year and as much as $56 billion by 2007.
The all-stock deal values Veritas at $30.78 a share, a premium of just under 10 percent over where it traded yesterday. Symantec shares were off more than 7 percent today on news of the deal, while Veritas' stock was off just under a percent after running higher on rumors of the deal earlier in the week.
Symantec CEO John W. Thompson, who will retain that title post-merger, said the company will speak to a desire among enterprise customers to "reduce the complexity and cost of managing their IT infrastructure and drive efficiency with fewer suppliers."
Gary Bloom, the Veritas CEO who will become vice chairman of the merged firm, said Veritas' solutions that help assure constant and fast access to information that is on a network or being stored in a data center and Symantec's security solutions are a natural combination. "Through our unique portfolio of solutions, Symantec and Veritas are best positioned to address the ever-growing needs of our customers," he said.
Different Kind of Merger
The deal comes just days after Oracle finally consummated its $10 billion buy of PeopleSoft and as various industries from mobile phone carriers to health care experience a powerful wave of consolidation.
Forrester Research analyst Galen Schreck said unlike the Oracle/PeopleSoft combination, or even the Sprint/Nextel get-together, this merger is about market dominance and extension of reach rather than a way to better leverage two different pools of technology.
"This acquisition is about remaining competitive in a consolidating market filled with giants like Cisco, Hewlett-Packard, IBM and Sun," Schreck said.
The latest combination now makes Symantec large enough to fend off almost all would-be acquirers as well, he added, and the long-range goals of both companies to have a stake in the move toward utility computing mesh well.
Veritas has made a handful of acquisitions in that spaced recently, which will help it create integrated solutions that enterprises are now demanding, Schreck said.
Familiar Strategy
Growing through acquisitions is nothing new to Symantec, which along with its main rival in the network security space, Network Associates, has led a trend in the security space toward large companies that can offer a suite of solutions — from antivirus to firewalls, disaster recovery to data backup.
Already this year, Symantec bought anti-spam vendor Brightmail, security consultancy @Stake and intrusion-prevention expert Platform Logic.
Gartner analyst John Pescatore said that despite the overwhelming size of the Veritas buy, it fits in with the other acquisitions, which are all aimed at giving Symantec a broader menu of solutions to sell to its customers. Buying the consulting firm underscored that desire, he noted, since it gives Symantec the ability to help customers knit together various technology projects.
Symantec and others are banking on the fact that their trusted positions as enterprise-level vendors of security products will make them go-to companies for broader solutions. Symantec is pushing the notion of "information integrity," he noted.