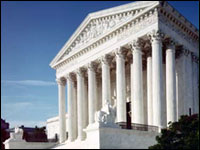 The U.S. Supreme Court ruled in favor of the video game industry on Monday, striking down the California law forbidding the sale of violent games to minors. In its decision on Brown v. Entertainment Merchants Association, the court says that the act does not comport with the First Amendment of the U.S. Constitution.
The vote was 7-2 in favor of rejecting the 2005 California law that would prohibit selling or renting certain games to minors, based on legislative findings that they stimulate feelings of aggression, reduce brain activity, and promote violent and antisocial behavior. The law was signed by then-Gov. Arnold Schwarzenegger, but it never took effect because lower courts found it in violation of free-expression rights.
A 2009 San Francisco federal appeals court ruling said that the state provided no credible research showing that playing violent games harmed minors.
Strange Bedfellows
The decision jumbled the ranks of the Supreme Court's typical lineup. Justice Antonin Scalia wrote the majority opinion, supported by Justices Anthony Kennedy, Ruth Bader Ginsburg, Sonia Sotomayor and Elena Kagan. Justice Scalia's 18-page opinion stated that even when protection of children is the object, the constitutional limits on governmental action apply.
Justice Samuel Alito wrote a separate opinion in favor of the same outcome, supported by Chief Justice John Roberts. The two expressed some disagreements with the majority. Justice Alito suggested that members of the government and the court should make every effort to understand the new technology presented in these sophisticated games.
Justices Clarence Thomas and Stephen Breyer filed separate dissents. Justice Breyer noted that the First Amendment does not disable government from helping parents make such a choice here — a choice to not have their children buy extremely violent interactive games.
Recognizing Video Games as Media
The Entertainment Software Rating Board provides guidelines to video game content, but ultimately it is up to parents to decide which games their kids will be allowed to purchase. If kids go into stores alone, they can buy whatever they want — short of products that include obscenity, such as some hip hop recordings.
"It seems to me that the Supreme Court simply ruled that video games are just like cable TV, books, and movies: They are protected by the First Amendment to the Constitution," Carl Howe, director of anywhere consumer research at the Yankee Group, told the E-Commerce Times. "Just because legislators in California don't like them or think that they do harm doesn't mean that publishers can't sell them."
The First Amendment guards the free speech rights of video game makers to produce and distribute their products, no matter how violent. The court clearly views video games as any other media that needs free-speech protection.
"I think this ruling recognizes that video games aren't just software," said Howe. "They're a commercial form of media, and as such, are properly regulated, and their free speech is protected just like other media types."
No Easy Answers
As to what the future might hold, it's likely the struggle will continue in some fashion.
"A similar battle has raged for years on obscene TV content, for example, and I don't think that matter has been fully decided despite several Supreme Court decisions," said Howe. "What I think we can learn from this ruling is that video games aren't in any way special. They're subject to the same regulations and protections that other media enjoy."
The court's decision "definitely puts the responsibility on the parents to watch what their kids are playing on their game platforms," Azita Arvani, principal of Arvani Group, told the E-Commerce Times.
"Consequently," she said, "the game industry's voluntary rating system and the parental controls on the gaming platforms become more significant."