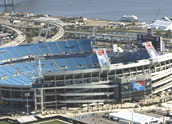 Despite spending a reported US$2.4 million for 30 seconds of television time during Sunday's Super Bowl, some advertisers failed to ensure their Web sites could handle additional traffic their campaigns generated.
According to Keynote Systems, several major companies saw the performance of their Web sites suffer during the game, which saw the New England Patriots win their third Super Bowl in four years.
Keynote said the advertisers whose sites saw download times rise the most were Tobasco and Honda.
Some Mistakes
Tobasco's home page, which normally downloads in around 3 seconds, took as long as 20 seconds to load around 9 p.m. EST, or shortly after the second half began. Honda spike at about the same time, rising from a typical download time of 3.5 seconds to over 37 seconds.
The two sites also scored poorly on availability, with Tobasco seeing its availability score dip to 25 percent and Honda hitting a low of 50 percent.
Some of the entertainment companies that used Super Bowl ads to promote upcoming movies also saw problems with keeping their sites ready to be viewed.
Sony Pictures and Paramount had availability dip to 75 percent several times, Keynote said. By comparison, Universal and Warner Brothers both maintained full availability during the game, though Universal logged the slowest steady state download time of 9.1 seconds.
As usual, the advertising aspect of the game is being dissected as closely as the performances on the field. With millions of viewers now able to view Web pages over high-speed connections, many even as they watch the game on television, having sites available at peak times is more important than ever.
Industry experts say there were some mistakes made, not only in planning for surges in traffic but also in how companies used the Web, including search marketing, to ensure they got the biggest bang for their Super Bowl buck.
Still, the majority of companies apparently planned for the surges they would see after their ads showed, and some won high marks for their ability to integrate online and offline.
Steady as She Goes
Lisa Arthur, chief marketing officer at Akamai Technologies, said her company handled the Web traffic for some 22 Super Bowl advertisers. She said the sheer volume of data being moved from those companies' sites emphasized the tight connection between TV advertising and the Web.
Arthur told the E-Commerce Times that the rise of wireless home networks and high-speed Internet connections means that people are using their Web connections even as they watch the Super Bowl, which the data bore out. In the moments immediately after a company's ad ran on the game, Akamai saw a 600 percent increase in the amount of information being transported across its network.
The amount of data emphasized that in many cases, video clips or other rich media was being viewed. "The combination of all the rich interactivity also drove up the statistics as much as the number of people going to those sites," Arthur said.
For a larger period of time, a five-hour window between 6 p.m. and 11 p.m. Eastern Time, Akamai saw a 275 percent increase in data traffic. "People went online and did a quick check right after the commercial was aired and maybe they watched the commercial again online or registered for a contest. And then they came back later," she said.
Arthur said there were no bottlenecks or slowdowns reported on its global network. "Our network performs as it always does," she added.
Some Get It, Some Don't
Anthony Iaffaldano, director of marketing at Reprise Media, said the sheer cost of Super Bowl advertising makes and the rise of search marketing means huge opportunities for companies that effectively use paid search to capture traffic driven to the Web — but not necessarily to their sites — by their ads.
"We know that a lot of people don't go in and type a URL directly," Iaffaldano, a former Ask Jeeves employee, told the E-Commerce Times. "So many people have search engines as home pages, it makes sense to reach out to them through that avenue."
Some advertisers in yesterday's game scored a "slam dunk," he said, by not only making it easy for consumers to find info related to the campaign, but also by "rewarding them with a little something extra," such as a director's cut of a commercial.
One example was the GoDaddy.com commercials. By far the raciest of the evening, they featured a scantily clad woman testifying before a panel of old men. The ad actually had a second version that the network refused to show. When consumers motivated to go online typed GoDaddy.com into a top search engine during the game, a paid listing took them to a site where the company's CEO had posted a Weblog with his thoughts on the commercial and the ideas behind it. There was also a link to an extended version of the ad.
"In general, all of the e-commerce and online companies got it really well," Iaffaldano said, citing CareerBuilder.com and Napsteras as other examples. "They did a good job not only of tying what they did online back to the Super Bowl but to delivering a little something extra on the back end." Napster, for instance, offered a free trial of its new portable music service. Other companies, such as Staples and Ameriquest, scored high with Reprise for issuing a specific "call to action" relating to using the Web.
Missing the Boat
By contrast, the entertainment and consumer packaged goods advertisers did little to maximize the online synergies with search marketing, Iaffaldano said. "If there's one industry that can benefit from buzz and interest, that would be it," yet none of the movies advertised appeared to have bought any sponsored placement on search engines. "The sites have great content, but they missed the boat."
"If you think of all the money you spend to have a Super Bowl ad and the fact that it costs 3 to 5 cents per click to move someone to your site through search, the opportunities are tremendous," he added.