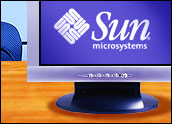 After four straight years of declining revenue, Sun Microsystems said Wednesday it plans to cut 4,000 to 5,000 jobs in the next six months. The layoffs are part of a series of cost-cutting measures the company's board of directors approved to stimulate growth and a return to consistent profitability.
"Momentum is clearly increasing around Sun's core technology and channel programs, with Java, Solaris, SunFire and StorageTek platforms all gaining share," said Sun President and CEO Jonathan Schwartz. "We've worked hard to reinvent the entirety of Sun's product line, from software to systems, storage and services."
It's on that rebuilt foundation, Schwartz added, that Sun is reinventing its business model and focusing its energies on automation, energy efficiency and network innovation.
A Thorough Analysis
Over the past month, a team led by Schwartz and Sun CFO Michael Lehman conducted thorough reviews of the company's global operations.
That resulted in a number of initiatives designed to better align expenses with its core business strategy and drive the company's operating income goals of at least 4 percent of revenues for the fourth quarter of 2007 and of at least 10 percent of revenues long term.
The plan provides for increasing investment in core technology and channel resources, while accelerating acquisition synergies and disinvestments in non-core processes and research and development activities.
Hard Decisions
More specifically, the plan addresses several cost-cutting initiatives including an 11-13 percent workforce reduction and the consolidation of its real estate portfolio. The company is reducing the approximately 37,500 worldwide employee headcount by 4,000 to 5,000 people over the next six months, selling its Newark, N.J., campus, and exiting leased facilities in Sunnyvale, Calif. The company will continue operation of its two major San Francisco Bay Area campuses, Menlo Park and Santa Clara, Calif.
Sun expects these initiatives, designed to focus and streamline the company, to result in an annual cost savings of between US$480 million and $590 million, with the full impact expected to take effect by the fourth quarter of fiscal 2007. The company expects to incur restructuring charges ranging from $340 million to $500 million over the next several quarters in connection with the plan, the majority of which will be affect the fiscal quarter ending June 30, 2006.
Shawn Willett, principal analyst at Current Analysis, called the changes inevitable and said Schwartz is "doing what he has to do right now."
"Sun has to come up with a realistic growth plan. Sun has to become a leaner company, be more realistic about what the revenues are going to be, keep its costs in line, and start posting a profit. Cutting employees and selling real estate is one way to get leaner," Willett told the E-Commerce Times.
The New Face of Sun
This is not the first employment shakeup since Schwartz took the Sun helm on April 24. He has announced a number of executive moves including the appointment of Richard Green to executive vice president of software, John Fowler to EVP of systems and David Yen to EVP of storage, among several other management changes.
"The team that I have aligned … represents Sun's reinvigorated focus and recommitment to driving customer and shareholder value," said Schwartz in announcing the firm's plans on Wednesday. "I'm confident that we're on the right path — revenues and gross margins were up in Q3 year-over-year, and our investments in core R&D activities are paying off."
Schwartz optimistically pointed to Sun's balance sheet with approximately $4.4 billion in cash and marketable securities, long-term partnerships with other technology leaders worldwide, and strong relationships with many Fortune 1000 companies.
"I believe that execution of our strategy to provide innovation and choice will pay off in value to customers," he concluded, "and that value will be reflected in business performance."