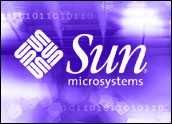 Sun Microsystems has revealed it is working on a server designed to enable faster and more expansive online game play. The company's goal is to create a dedicated server that can allow far more online gamers to play the same game at the same time.
Using traditional business servers, gaming companies currently must divide game players into segments, or shards, to allow them all to take part without bogging down or crashing machines. Online gamers have been clamoring for a solution to that problem, according to industry watchers.
Sun said it will demonstrate a prototype of its new game server, which uses Java and Solaris as well as proprietary technology from partner firms, at this week's Game Developers conference in San Jose, California.
No Wires
Meanwhile, a continent away, Sun is flooding the CTIA Wireless conference in Atlanta, Georgia, with product and partnership announcements that underscore the company's intention to play a role in that emerging sector. The company's new initiatives are aimed at capturing more of the wireless network market.
Among the wireless rollouts is a service program aimed at network equipment providers that sell to wireless carriers, a market Sun says is worth some US$29 billion each year. The so-called Lifecycle Services Program is meant to streamline the process of purchasing and integrating new software and hardware, making it easier for equipment providers to focus on development.
"This announcement puts Sun at an even higher strategic level within the wireless infrastructure business," said Sun senior vice president Marge Breya.
Sun also announced a partnership with Research In Motion to develop Java-based Web services tools for enterprise customers who use RIM's BlackBerry handheld e-mail device, plus a deal with Pronto Networks, with which Sun will build and market theiForce WiFi appliance aimed at enabling fast rollout of mid-size public wireless access networks.
Game On
Sun's moves come at a time when the company is eager to right itself after taking a battering on Wall Street. A couple of weeks ago, Standard & Poor's downgraded Sun's bonds to its highest junk-bond rating, saying prospects were not good for the company to return to consistent profitability in the near future.
A few days later, some high-profile Wall Street analysts also lowered their ratings on Sun's stock, citing the same concerns that Sun would not rebound as quickly from the tech recession as some of its counterparts.
Gartner analyst Daryl Plummer told the E-Commerce Times that, with its latest moves, Sun is seeking to harness the growth potential of the wireless and gaming markets, where it already has a strong customer base and a solid reputation.
"They want the best applications and solutions to be built on their foundation," Plummer said. "If they can get that to happen, they'll have much a much better outlook over the long term."
Making a Stand
IDC vice president Jean Bozman agreed that Sun is looking for new ways to increase server sales — especially in the face of increasing competitive pressure from Dell and HP.
"These companies are really bumping against each other to get the big enterprise spend and now the medium-sized businesses as well," Bozman told the E-Commerce Times. "The best way for them to find growth is to develop a niche that they can claim as their own."
Sun's existing relationships in the gaming and wireless fields could help it make a stand in that sector, Bozman added.
The wireless Internet access market alone could be a growth engine for Sun, which built its reputation on building similar wired networks during the first Internet boom. "This is familiar territory for them," Gartner's Plummer added.