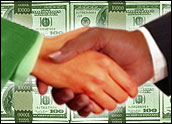 In lieu of facing a court judgment, Sun Microsystems has agreed to pay US$92 million to settle a long-running patent infringement case with Eastman Kodak. Now, observers are perusing the details to get a handle on what it means for the companies and the Internet.
Kodak won the jury trial October 1 and was seeking $1.06 billion in licensing fees and damages. Sun still will not admit or deny the allegations, but chose to settle the case instead of continuing the fight and risking a billion-dollar conclusion to the two-year suit.
"We are eager to put this punitive litigation behind us, to have reached a decision in the best interest of our stockholders, customers and employees, and to focus our future activities on the evolution of the Internet and Sun's place within it," said Jonathan Schwartz, Sun president and chief operating officer.
But what will Sun's place be in the evolution of the Internet in the wake of this critical intellectual property suit?
Java Marketing
Part of Sun's settlement with Kodak grants the software maker a license that will allow the company to continue marketing the Java platform with no further repercussions from the film manufacturer. But analysts predict a possible backlash from the development community.
"Sun is in this big battle with Microsoft for enterprise commitments," Jonathan Eunice, an analyst with the research firm Illuminata, told the E-Commerce Times. "The threat for Sun is that the outstanding judgment would throw scorn and a question of risk onto Java deployment and also Sun as an entity because it rebranded a lot of its flagship products as Java Tools."
Kodak, on the other hand, is sitting in the catbird's seat, Eunice said. Kodak may have cross-licensing agreements with Microsoft, Hewlett-Packard and IBM, but Oracle, Sybase and BEA Systems could soon be in for a visit from Kodak's intellectual property lawyers.
Next Target
"The next move for Kodak once they have finished polishing off those bottles of champagne and enjoying their bonus check is to look for another target," Eunice said. "Kodak has a lot of ammunition in its pocket right now having settled monetarily with Sun."
Willy Shih, Kodak senior vice president, told the media that the company is pleased that the court validated its patents and "we now look forward to building a more productive relationship and continued collaboration with Sun, with whom we have enjoyed a close partnership for nearly two decades."