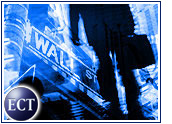 The online securities industry has been "fundamentally altered" by thevolatility that has rocked the markets for the past year, causing manyInternet brokerages to retool their business models in order to survive theshift in trading dynamics and meet changing customer demands, according to anew study released Wednesday by Deloitte & Touche.
In contrast to last year, the report said that many online brokerages have turned theirattention towards offsetting dwindling consumer confidence and a change ininvestor psychology.
Highlighting the increasingly conservative approach investors across the board are taking to manage their portfolios, Deloitte & Touche said the average activity in online accounts has experienced a 42 percent drop since the spring of 2000.
During 2000, discount and full-service online brokerages ranked a fear ofsystem outages under surging trading volume and a limited talent pool fromwhich to draw employees among their greatest concerns of conducting business.
"Competing on price isn't enough anymore," said Deloitte & Touche's financial services industry partner George Simeone. "The bear market hascaused online securities firms to change their focus from generating tradingvolume to capturing longer-term investors with high-value accounts."
Giving Advice
In response to the drop-off in trading volume, the study said onlinebrokerages have looked to gain a competitive advantage by supplyinginvestors with more financial information and advice, quality customerservice, and an array of related products and innovative technology.
These industry-wide changes also have blurred the differences betweenindividual brokerage houses and, in particular, raised the bar for discountfirms, forcing them to beef up customer service and financial productofferings in order to vie with their higher-end rivals.
The report said 46 percent of discount Net brokerages say that high-quality customer service is central to their positioning, while 31percent believe low-cost services are important.
Tech Trends
One of the primary ways discount online brokerages are setting themselvesapart from their full-service counterparts is through their widescaleintegration of innovative technology, the study said. A largerpercentage of discounters, compared to full-service firms, offer customerswireless access, real-time streaming quotes and electronic communicationnetworks (ECNs).
For instance, more than three quarters of lower-priced brokerages providecustomers with streaming quotes. In contrast, none of the full-service firmssurveyed by Deloitte & Touche do the same. As another point of difference,ECNs are available at 79 percent of discount securities companies and atonly one third of full-service firms.
Full-service firms, however, are topping their lower-cost competitors whenit comes to providing professional support to investors looking to managefluctuating market conditions. While 83 percent of brokerages in thehigh-end bracket offer this capacity, only 31 percent of discount firms canprovide the same.
To compile information for its report, Deloitte & Touche surveyed 40 seniormanagers at leading full-service and discount online securities firms.