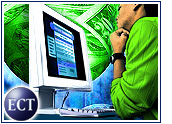 Buoyed by a bounce in its current economic climate, Koreanbusiness-to-consumer (B2C) e-commerce will remain "robust" in the comingyears, according to a report released Wednesday by the Yankee Group.
As South Korea continues to rebound from the 1997 economic crisis, the studysaid that a number of factors are leading South Koreans to ramp up their onlinespending in both domestic and international markets — including superiorinfrastructure, a rapidly expanding Internet user base, an increase in valueof products bought via the Web, and tightened online security.
For instance, the Boston, Massachusetts-based research firm found that morethan a third of those surveyed for the study are already making onlinepurchases on a quarterly basis, while 65 percent of all e-shoppers are partof the key 16- to 25-year-old demographic.
As part of its analysis of specific purchasing habits, Yankee said that 43percent of the survey respondents cited convenience and the ease of delivery as theprimary drivers of conducting online transactions. Moreover, the mostpopular items bought online in South Korea were music compact discs and tapes.
Help Wanted
Although the Korean B2C space is "very attractive," Yankee said that investmentin the area has been slow to arrive.
"Despite the real opportunity for success, few foreign companies haveentered the market," said Yankee analyst Aditya Puri. "Interestingly, theextreme nationalism that is often associated with Korean buying habits hasnot migrated (to the same extent) to the Internet."
On the domestic front, the Chaebol — which are massive Korean businessconglomerates — have invested "significant" amounts of time and capitalinto e-commerce undertakings to preserve their supremacy in the onlineenvironment. However, the report concluded that in many cases thesecompanies lack the experience of their American counterparts and are in needof expertise from foreign partners or investors.
Net Effect
The Yankee Group study is the latest evidence that Korea's Internetpopulation is exerting considerable influence over the online landscape.
A report released last week by IDC predicted that China and South Korea willbypass Australia as the biggestinternational business-to-business (B2B) leaders, accounting for justunder half the total B2B in the region by 2005, excluding Japan.
Meanwhile, separate data issued earlier this week by Nielsen//NetRatingsfound that a South Korean Web company had the second-highestnumber of page views in March, trailing Internet powerhouse Yahoo!.According to the study, the sizable South Korean user base has proven to bean online "force."