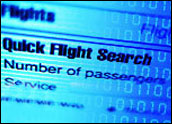 A slowing U.S. economy is actually doing some good for online travel providers, which many consumers see as a source of bargains, according to a report released Monday by Jupiter Media Metrix (Nasdaq: JMXI).
"Both consumers and businesses are increasingly in search of value fortheir precious travel dollars," said Jupiter analyst Heidi Kim. "TheInternet will continue to grow as an important channel for information,products and services precisely because of its ability to help travelersfind the best possible fares and rates."
Jupiter said that there is ample room for growth in the online travel sector. According to a recent Jupiter surveyof U.S. online consumers, 42 percent do not use the Internet at all fortravel shopping, while 29 percent buy online and another 29 percent research online but buy offline.
"Travel providers must vigilantly focus on increasing loyalty andwallet-share from each of their hard-won customers, in addition toconverting customers who research online but purchase offline," Kim said.
On a Roll
The travel industry has recently become one of the strongest performingsectors of e-commerce. Two major sites, Expedia.com and Travelocity.com,reported their first quarterly operating profits within the past month.
However, Kim said that while the sector will grow from US$18 billion in 2000 to $63billion a year by 2006, competition for customers remains fierce. Inaddition to Priceline.com and the other two major travel sites, a recentJupiter study found airlines are rapidly grabbing market share with theirown sites.
Add in the imminent arrival of airline-owned travel site Orbitz, and consumers will have a multitude ofchoices.
Loyalty Rare
Most travel consumers show little loyalty when it comes to buying online. Only 10 percentof online air travel shoppers buy after visiting just one site, while 60 percent visit two or three sites and and one-fourth visit four or more sites.
One potential storm cloud in an otherwise sunny forecast is a short-termslowdown in corporate spending on both travel and information technologyplatforms that enable employees to directly book travel online.
However, Jupiter believes that corporate travel buying will see a surge as theeconomy recovers, accounting for as much as $31 billion a year, or abouthalf of all online travel spending, by 2006.
Southwest Flies High
In related news, a new study by Nielsen//Net Ratings and Harris Interactive said that the Web site of Southwest Airlines ranked first among airlines and travel agencies in customer satisfaction.
Southwest finished ahead of Expedia, Continental Airlines and Travelocity in the survey of 39,000 Internet users.