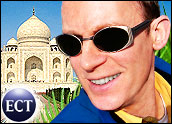 Indian call center agents and software developers are assuming important roles in Western economies. As a consequence, labor markets in India are becoming a key strategic variable for many Western firms.
For the last five years, it has become common for directors of Western companies to ask corporate managers, "What is our Bangalore strategy?" Now that labor markets in South Asia are maturing, a new question is becoming pertinent. For the next five years, a more relevant question will be, "What is our Indian human resources [HR] strategy?"
Here we examine HR categories for general Indian call centers staff, compare pay scales and look at strategies for retention. The impetus for this discussion came from our ongoing tracking of a new call center in Navi Mumbai called Purple Support Services, whose manager Mahesh Iyer provided salary data that we compare to other locations.
The Big Question
The big question, from an American client's perspective, is why did Mahesh choose to locate in Navi Mumbai, when he could have gone anywhere in South Asia or the Middle East to open a call center? Let's look at the alternatives.
Labor costs in Kolkata and Pakistan are lower and supplies more plentiful. Rent for facilities with redundant power supplies and reliable high-speed telecommunications access in the South Indian state of Tamil Nadu is cheaper. Bangalore has a better reputation for technical sophistication. Enthusiasm of staff in Colombo, Sri Lanka, is higher.
The answer to the question of Mahesh's location decision came down to balancing out of the factors listed above. His background as a HR manger has contributed to a focus on people as the most critical element in the customer service business, rather than rock-bottom wage rates, high-cost technology inputs and a location that doubles as a tourist destination. For Mahesh, the centrality of human resource optimization outweighs all other factors.
The Mumbai area has a population of more than 30 million people within commuting distance of Purple. As India's commercial capital, Mumbai has a sophisticated, modern labor force that can provide domain expertise for specialized client needs. Purple's location gives it access to all of India's outsourcing advantages, such as low currency risk, long-term price competitiveness and a labor pool of experienced mid-level managers who can satisfy Western clients' expectations for quality.
Mahesh had an earlier work experience in a remote area in South India that lacked a strong local labor force. Except for general call center agents and some tech support personnel, skilled staff needed to be recruited elsewhere and moved to that call center site. This labor market situation currently prevails in Dubai, Sri Lanka, and parts of Africa that are just entering the call center industry.
In Mumbai, Mahesh can quickly supplement Purple's personnel roster and add specialized personnel. For his company, the reliability and sophistication of the labor force in Mumbai is worth the cost of operating there. As a young facility addressing the challenges commonly associated with new call center operations in India, there are two categories of staff that Purple is currently recruiting and retaining.
Here we identify the two categories of general call center agents and compare their salaries with pay levels reported in Bangalore and Kolkata in India, and Karachi, Pakistan.
High School Graduates as Agents
First of the available agents are the graduates of secondary schools, without a college education. They make aggressive telemarketing agents.
Big established call centers are concerned about qualifications and, according to Mahesh, generally will not recruit this first type of agent — but smaller centers will. Purple is launching with ten agents, most of whom belong in this first category. As the facility begins handling flat rate and inbound work, it will shift to using more experienced agents.
According to Mahesh, the less-experienced, less-educated agents are difficult to retain because they will switch to another call center for only 1,000 Indian Rupees ($23 at US$1 = INR 43.6) more per month. The pay range for agents at Purple is INR 8,000 to INR 15,000 per month, or $183.50 to $344 at current exchange rates.
For this first type of agent, Purple generally pays INR 12,000 to INR 13,000 ($275 to $298). In Bangalore, this type of agent is paid INR 5,000 to INR 7,000 ($115 to $160) in an upcoming company compared to INR 8,000 to INR 12,000 ($183 to $275) for the big-name firms, according to Priya Dhar of eBusiness India.
In Karachi, Pakistan, new agents with no experience are paid 8,000 Pakistani Rupees (PKR) to 14,000 PKR ($134 to $235 at US$1 = 59.6 PKR), according to Babar Jhumra, who runs the NBA Computers call center there.
In Kolkata, where the English-speaking labor pool is flush with entry-level talent and costs are lower, small centers are offering starting rates of INR 4,500 ($103) per month for this type of agent.
In Kolkata this first type of agent may be looking for a call center that is centrally located, e.g., near a hotel with a popular discotheque. This is according to Gina Jones, who was the operations manager at an InternationalStaff.net contract facility and is now running a captive call center for a U.S. financial services firm in Kolkata.
Young call center agents throughout India have a reputation for enjoying nightlife and for having significant amounts of discretionary income to spend on entertainment. Jones has never fired an agent for substance abuse, but has reprimanded a few for coming to work with alcohol on their breath.
More Experienced Agents
The second type of agent has at least one year of experience, some college education and possibly a college degree. Undergraduate degree programs in India take up to three years to complete, compared to four years in the U.S. This second type of agent is not as difficult to retain as the first type of agent.
"The second type of agent is looking for amenities in addition to a salary," Mahesh said, "amenities such as transportation to and from work and good food." His theory is that if Purple provides good food, at no charge, then it will help productivity and retention.
Included this second category of agent are engineering students and recent college graduates with engineering degrees. Mahesh said that these types are joining call centers because of competition within the engineering professions for available job openings and because call center positions pay better than most engineering jobs.
Purple will use both monetary and non-monetary incentives to reward performance and encourage retention. For example, the company will pay an incentive bonus of $1 per lead. After a certain number of leads (450-500), they may give away a mobile phone with a digital camera. After one or two thousand leads, Purple may give away a laptop computer or other high-value item.
In Bangalore, experienced agents can earn between $128 and $330 per month, depending on their experience and the profile of the call center, according to Priya Dhar.
In Kolkata, monthly pay rates for experienced agents and lower level supervisors are INR 8,500 ($195) at small call centers, according to Jones.
In Karachi, college graduates with at least one year of call center experience are paid 10,000 PKR and 25,000 PKR ($168 to $420), at Babar Jhumra's facility. He said that his supervisors are paid between 15,000 PKR and 30,000 PKR ($252 to $504), depending on their expertise.
His center only runs business-to-business support programs, which do not involve selling. They can afford to pay premium wages by local standards.
At Purple, experienced agents are paid between INR 10,000 and INR 15,000 per month($230 to $344). Their supervisor is paid INR 17,000 ($390).
Retention Efforts
To boost retention, Mahesh provides management training and opportunities for upward mobility. After six months, he plans to start moving agents around to work in other departments for brief periods of time, so they can learn about other aspects of a call center's operations. Promotions to team leaders and then supervisors are also available.
"All call center agents are not just looking for money," Mahesh said. It is important to have amenities and a pleasant work environment, he said.
Favorable employment policies and free transportation to and from work contribute to retention too, especially for women, since most call center work in India is conducted at night. Purple's facility manager is a woman who helps set the tone of the call center as a pleasant place to work.
---

Click here for Part 1 of "Starting an Indian Call Center"

Click here for Part 2 of "Starting an Indian Call Center"
---
---
Anthony Mitchell
, an E-Commerce Times columnist, has beeninvolved with the Indian IT industry since 1987, specializing through
InternationalStaff.net
in offshore process migration, call center program management, turnkey software development and help desk management.
---