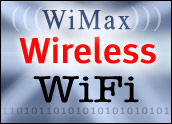 Sprint Nextel plans to invest up to US$3 billion over the next two years to build a fourth-generationwireless network based on the WiMax wireless broadband standard, the company announced Tuesday.
Sprint believes that by embracing the emerging WiMax standard, it can be the first to market with an ultra high-speed wireless network designed to provide service to some 100 million people by 2008.
Joint Effort
The investment represents a major boost for supporters of WiMax, shorthand for "Worldwide Interoperability for Microwave Access," including companies that have already begun to develop hardware and software for the standard, such as chip maker Intel and Motorola.
Sprint said it will team with Intel, Motorola and Samsung to build out the infrastructure needed and to develop handheld chipsets to operate on the network, which will be capable of delivering streaming video, faster data downloads and other services.
Sprint Nextel is taking "a major step forward" by linking the Internet and mobile communications, according to CEO Gary Forsee. "We'll give customers the power to harness business information and personal entertainment easily and inexpensively — and in ways that they will one day wonder how they lived without."
The company plans to invest $1 billion in 2007 and between $1.5 billion and $2 billion in 2008 to build out the network.
The move reverberated across the mobile industry, where many carriers are still rolling out so-called 3G, or third generation, networks and services.
"This is a big bet on the future," said telecom analyst Jeff Kagan.
Matter of Time
Some trials of the new network could be up and running as soon as late next year, Sprint said, adding that it intends to continue to invest in its current and 3G networks.
Sprint intends to use a "unique business model" to foster adoption of WiMax. Its investment will create a network that will be available at a cost similar to 3G networks but will operate at a much higher speed, the company claimed.
Intel will build chips for the network, and Motorola and Samsung will develop handheld devices designed to maximize its speed. Details on those products and devices from other consumer electronics makers are expected later.
For Intel, the move is a validation of its recent decision to sell off much of its mobile chipset line, but retain the rights to its WiMax technology. Intel Executive Vice President Sean Maloney said Sprint's investment "confirms Intel's belief that WiMax is the wireless technology of choice to deliver affordable broadband" to mobile devices.
Intel has made heavy bets on WiMax, which spent years being kicked around before finally being ratified last December. A companion standard, known as "WiBro," is already in use in Korea and other Asian countries.
Sprint shares were up nearly 3 percent in midday trading Wednesday to $17.08. Intel shares were up about 2 percent.
Sprint explored other options before choosing to back WiMax, including Flash-OFDM technology, which is expected to gain users faster than WiMax over the next three years. Sprint found WiMax to be more compatible with its existing network and the broadband wireless spectrum it owns.
Big Bet
One surprise of the announcement may be how quickly Sprint Nextel plans to get WiMax to market, according to Kagan. "We've been talking about it for years," he said.
"This is an exciting initiative," Kagan added. "We are only at the beginning. This will be one of several competitors and technologies that are planned in the changing telecom marketplace over the next few years. Customers' broadband choices are expanding. If the product is high quality, high speed, competitively priced, and marketed well, it could be very successful."
WiMax may fall short of being a true fourth-generation network, said JupiterResearch analyst Joseph Laszlo, and may instead represent a "parallel network."
It has the potential to replace so many different existing services — from WiFi to home Internet connections — that it's not yet clear what it will compete with, which makes Sprint's decision to test the service before a broad rollout a smart move, Laszlo noted.