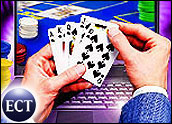 In a dramatic escalation of efforts to crack down on Internet-based gambling, law enforcement officials in the U.S. arrested an executive from Sportingbet, a major UK-based online gaming site.
The arrest marks an expansion of efforts to use law enforcement to control Internet-based wagering, and comes two months after two key figures in the UK-based BetOnSports.com were indicted and arrested.
States Getting Involved
At the time of those actions, some analysts speculated that because that company's founder, Gary Kaplan, and its CEO, David Carruthers, had been known to U.S. law enforcement for some time, the action may have been a targeted one.
The arrest of Sportingbet Chairman Peter Dicks — who was detained by agents of the Port Authority of New York and New Jersey after he arrived at Kennedy Airport late Wednesday — suggests a more comprehensive effort to crack down on Internet-based sports betting and other forms of gambling. Those activities, while considered illegal under laws that pre-date the World Wide Web, have largely been allowed to take place unfettered until recently.
Dicks was arrested on a warrant from the state of Louisiana, where he is expected to be extradited sometime next week.
It remains to be seen whether the latest action, which is believed to be the first involving state-level law enforcement action — Carruthers and Kaplan faces a host of Federal charges — would dampen the demand for Internet betting in the U.S. By some industry estimates, some 50 million American residents placed online bets on sporting events or played casino-style games for money online last year.
Still in Business
The arrests have the UK-based gambling industry reeling for the second time in two months, with trading in shares of Sportingbet, which is listed on the London Stock Exchange, halted after the arrest. Other sports betting and online gaming firms tumbled, with approximately US$1.5 billion in market value wiped out during trading on Thursday.
Last month, BetOnSports abruptly shuttered its U.S. Web site, posting a note to say that it would attempt to make payouts to customers "in an orderly fashion" and that the site would remain off-line until the legal situation surrounding its operation was settled.
As much as 40 percent of that company's revenue reportedly came from the U.S., and it may have to divest itself of its profitable and growing Asian operations to remain solvent in light of the legal crisis.
Whether Sportingbet will face a similar fate remains unknown. The site was still able to be reached from the U.S. as of midday Friday. In a statement posted on its Web site, Sportingbet said the corporate parent "has not received correspondence from any U.S. authority regarding this or any related matter. The Company is closely monitoring the situation and will continue to operate as normal."
Questions Remain
The actions may force there to be more clarity brought to the questions of what constitutes illegal gambling in the context of the Internet. While sports bets are generally considered out of bounds, the question of poker and other casino style games is not as clear.
Some international groups have argued that U.S. policy is inconsistent in the area of gambling, and some Caribbean-based interests have asked the World Trade Organization to intervene to force the U.S. to clarify whether Americans can legally place bets at offshore casinos.
It was somewhat surprising that Dicks would risk traveling to the U.S. in the wake of the Carruthers arrest, and continued movement toward a more formal ban on Internet gambling. Congressional lawmakers had been pushing bills forward that would clarify laws to make it clear that Internet gaming was illegal in most cases, but the effort appears to be on hold until early 2007 at the earliest.
Investors in the betting sites can take solace in the fact that Dicks faces state, not federal charges, said Richard Carter, an analyst at Numis Securities.
"The charges do not relate to racketeering, fraud or the Wire Act," he added, making it "unlikely that the district attorney's office will apply for a restraining order on Sportingbet's operations. Sportingbet will trade as normal."
The action is unlikely to affect the company's U.S. business in the near term, Carter claimed.
Companies will not give up on the U.S. audience lightly, since the market is considered among the most lucrative globally, declared Christiansen Capital Advisors analyst Sebastian Sinclair.
"The trend seems to be toward more enforcement, but it's still not clear what's going to happen," Sinclair said. "These issues are only beginning to be tested."