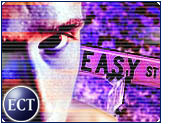 Another Net appliance has made an early exit — this time, Sony's eVilla Net Entertainment Center, which lasted just two months.
According to Sony, the eVilla online service is scheduled to end on September 13th. eVilla customers were mailed a letter from Sony during the week of August 27th, detailing a plan in which Sony said it will buy back eVilla devices from customers and will refund the costs associated with the service.
eVilla, which launched in June, was initially set for an April product release date. The Net device retailed for US$500 and, like previous network appliances, offered a package of predetermined news, sports and weather information. The content, along with e-mail, was automatically downloaded overnight to eVilla's 15-inch Trinitron screen.
Too Limited?
Users of eVilla were not able to send or receive instant messages or download streaming media. Because the eVilla device had no hard disk drive, software that was not part of the content package could not be installed.
eVilla also used Be's BeIA operating system instead of Microsoft Windows, so neither the Internet Explorer Web browser nor Windows multimedia files were compatible.
In addition, users of the appliance needed to dial into EarthLink to personalize the prepackaged eVilla content. But such personalization was limited to the Web sites of Sony's partners. Popular online destinations from AOL Time Warner, Yahoo! and Microsoft were not included.
Although in theory Internet appliances offer an attractive, Easy Street approach to online content, consumers did not respond well to appliances, which ultimately offer fewer options than a personal computer linked to the Web.
Pulling the Plug
The Internet appliance market has suffered from consumer confusion about what an Internet appliance is and how it differs from a PC.
In the last six months, 3Com (Nasdaq: COMS) dropped its Web appliance division, discontinuing its retail Audrey Web tablet, while Gateway (NYSE: GTW) and Compaq (NYSE: CPQ) have struggled in that category and apparently are rethinking their strategies.
Yet predictions for the Net appliance market remain optimistic. Internet appliance sales, which include both devices that connect to the Internet via a television and Internet terminals like eVilla, reached about US$219 million in 2000, according to Cahners In-Stat Group. That number is expected to soar to $1.3 billion by 2005.
Not Giving Up
Other manufacturers continue working to fill the Net appliance void. Software giant Oracle touted the release of the 2.0 version of its New Internet Computer (NIC), which is also one of the most affordable Web access devices at $199.
Microsoft chairman Bill Gates, meanwhile, has pushed the Tablet PC concept, saying it is more convenient than a laptop computer.
In addition, Compaq, Sony, Fujitsu, Toshiba and Acer all have said they plan to offer Tablet PCs, which will be about the size of a thick magazine and will allow users to input information on the screen using a stylus rather than a keyboard.