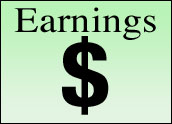 Mobile phone maker Sony Ericsson became the latest high-profile technology company to disappoint investors with its first quarter earnings report, saying today that low-price handsets from competitors was pinching its profits.
Sony Ericsson said it earned US$41 million in the first quarter, a 61 percent decrease compared to a year ago, while sales were also off, by 4 percent. The company, a joint venture between Ericsson and Sony, missed analysts' targets on both counts.
Underlying Growth in Mobile
The company tried to paint an optimistic outlook, noting that several long-planned innovations, including its Walkman-brand MP3-player/smartphone line, will hit the market sometime this year. However, the firm has struggled to retain a top slot among handset makers, recently slipping from fifth to sixth place worldwide.
Analysts say the earnings underscore the difficulty that some handset makers are having with consistently turning in strong results, despite widespread belief that the mobile communications, services and mobile commerce marketplace is poised to explode in 2005 and beyond.
While the move toward smartphones has been well-documented, not all companies are benefiting from the trend equally and product missteps along the way have hampered the efforts of Sony Ericsson and others to capitalize on the underlying growth in mobile.
The results are also the latest dent in the fender of the technology sector. First polished to a bright shine Wednesday by the results of Apple, which recorded a six-fold increase in profit, the results have been almost all downhill ever since. First, Apple guided analysts lower than they'd hoped for looking ahead through 2005.
Tech Tonic
Around the same time, Advanced Micro Devices reported lower sales and lower profits, blaming its flash memory unit, which it plans to spin off.
Then IBM came out late yesterday — a few days early no less — with results that were up from last year but fell short of forecasts on both profit and sales measures. Profit was US$1.4 billion or 85 cents per share, revenue $22.9 billion; analysts had been calling for $23.6 billion in sales and 90 cents a share in profit.
IBM CEO Sam Palmisano cited key deals not being closed by quarter's end and referred to "soft economic conditions," in some markets and said the company was examining whether to undertake a large-scale restructuring to adjust.
Also falling short was Sun Microsystems, which reported a loss and said revenue was slightly lower than a year ago at $2.625 billion. Sun had been expected to see sales growth fueled by its early and vigorous embrace of Linux. Also, Samsung electronics posted a more than 50 percent drop in net profits.
Some analysts say that expectations were inflated for the tech sector and that the new batch of results and modified outlooks might bring investors back to reality.
The results so far also put more pressure on those to come. Next week brings earnings releases from the likes of EMC, Yahoo and eBay. Perhaps most closely watched will be Intel's results, which are due Tuesday.
Indeed, some companies' results matter much more than others. Pacific Crest Securities analyst Richard Petersen noted that IBM, for instance, saw weakness across most of its business lines. That, in turn, suggests the problems are likely not confined to Big Blue but instead point to some structural weakness in the tech industry.
Mobile Musings
The Sony Ericsson results cast a new light on what is widely seen as one of the year's hottest sectors in mobile communications.
Though analysts have focused on the growth of mobile services — notably gaming, music downloads and other forms of mobile commerce — the handset market was expected to see strong growth in 2005 as more people moved toward smartphones and as more mobile carriers rolled out faster networks to speed services to users.
"The sweet spot in the market is very crowded," Gartner analyst Ben Wood told the E-Commerce Times. Handset makers who have focused on low-cost handsets are well-positioned for growth because markets such as Latin America are seen as outgrowing more established markets going forward. "All the vendors are aiming for the same area" of combined phones that can do multiple things.
Sony Ericsson is banking on the Walkman brand that Sony brings to the table being enough to keep it in the hunt for market share, he added.