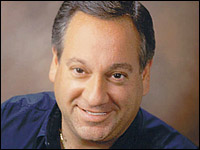 I recently gave a speech to a group of AT&T executives in a university MBA program, and during the Q&A afterward I got a very interesting question about the future of the AT&T brand. It grew into an interesting and important discussion that I'd like to share here.
The questions after speeches this year were astounding. Talking with folks at events all around the country tells me AT&T may have a brewing problem it needs to address, and quickly. But to tell you the truth, I am not even sure the company is aware of it yet.
The conversation after my recent speech focused on important after-merger issues that have apparently been simmering among the workers over the last few years. I see this as a real threat that AT&T should address quickly before it causes trouble.
Let's pull the camera back for a moment to get a good understanding of the problem. The AT&T of today is not the same company it was just a few short years ago. In the 1990s, AT&T was the largest long distance giant. It acquired the largest cable television company and operated the largest wireless company as well.
Over the next several quarters, it realized the merger was not working, so it quickly broke the company apart, spinning off the wireless business and selling the cable television business to Comcast. AT&T was losing its consumer long distance customers to the baby bells, so all it had left was a smaller business services company.
In the mid 2000s, SBC — the smallest baby bell — acquired AT&T, Bellsouth and Cingular. Suddenly there was a distinctively different company.
What's in a Name?
I remember getting a phone call from an SBC executive asking my opinion about the name. The company was trying to decide whether to keep "AT&T" or create a new name? I said there was no choice. The AT&T name and brand was tired, but was still the strongest and best-known brand in the industry. There was no choice but to keep it.
However, I said, the new company would have to update the old name. Revive it. Reinvigorate it. Give if a youthful energy and have it mean everything that was great, that is great, and that will be great going forward.
AT&T used to be a long distance company. Now it provides local services, wireless, Internet, television, and so on. Its competition has changed as well. It used to compete with MCI, Sprint and the baby bells, but now it competes with Comcast, Time Warner and Cox — and every wireless carrier as well.
SBC's decisions and actions at the time of its transformation were terrific. It changed the name of the company to AT&T overnight. Its quick action was a brilliant move, and it made it look as though everything was completely under control. The company's leaders were hitting home runs. It was the start of a beautiful time of peace and harmony — but something would start bubbling beneath the surface.
While the waters were calm at sea level, underwater things got increasingly chaotic. Tiny SBC had suddenly morphed into the very large AT&T. Everything changed — and as I'm learning, it was not all for the better. "Overwhelming" became the catch-word for AT&T workers.
Over the last few years, AT&T has become larger, colder and much more distant to everyone — including workers, investors, analysts and the media. That is a part of the problem.
The new AT&T started out as a glass that was half full a couple years ago, but is starting to become a glass half empty.
The major companies that were rolled into one have all been forced to change. They lost their senior executives, and the new and now very large AT&T was being run by the SBC execs — and even many of them had changed, including the CEO that pulled all this together.
When this new AT&T was being formed, it was still run by longime SBC CEO Ed Whitacre. It is now run by CEO Randall Stephenson. Wrapping his arms around this enormous new company is obviously quite the challenge. I don't know if it could be done any better than it has been to date, but there are still problems that need to be fixed — and quickly.
Turbulence Hasn't Settled
Temporary chaos is expected after every merger, but it's been several years since this one took place. I think one of the problems is that it was not just one large merger — several large mergers were occurring at once. Remember, it was SBC acquiring AT&T, Bellsouth and Cingular, and suddenly putting them all under one roof.
The rugs of tens of thousands of workers were suddenly ripped from underneath them. They no longer knew the path to success. That uncertainty remains. Things are bigger and better from one perspective, but much worse from another.
I hear from customers in the old Bellsouth region that customer care has fallen. Bellsouth had the best reputation for customer care in the nation among the seven baby bells, but after being acquired by AT&T, all that has changed. Now customers are frustrated, which is becoming a bigger problem.
True, the industry is getting more complex, andcompanies are dealing with many competing and conflicting challenges — but one thing is for sure: You have to give your customers golden care, or you will lose them. Customers have choices today.
On the surface, things look under control, but chaos is starting to bubble up. The former SBC execs have to handle the immense pressure of a much larger job.
After moving the HQ from San Antonio to Dallas, the company has had little time to breathe and think over the last few years. Everyone has been under enormous pressure. It is starting to take its toll — and it's still building.
I have heard from several employees that AT&T used to be a fun place to work, but no more. Now it's just tough. That lack of enjoyment and enthusiasm will hurt the company if it doesn't turn things around.
I've noticed the change personally over the years. I remember meeting Larry Solomon in the middle 1990s. He was head of corporate communications for SBC at the time. That was back when the company looked and acted differently — more relaxed and closer with customers, employees, analysts and the media. There were seven smaller baby bells and three big long distance giants, and I worked with them all. It was a very exciting time for everyone. The sky was the limit.
Larry was one if the most approachable, nicest and most effective corporate communications persons in the industry. Don't misunderstand — they all fall all over themselves when I email or call with a question, but SBC was noticeably attentive and responsive in many different respects — better than most.
Cold and Distant
During the last few years, things have changed. I haven't talked with Larry in a long time. AT&T sends press releases and emails on a regular basis, but the valuable two-way communications have suffered. Unless it wants to reach out to brief me on something, I have very few communications with the company. It has become a fortress with tall, thick walls. Everything is very official.
When I have a question, I have to go through an annoying and time-consuming process rather than just sending a quick email and getting a quick answer. Very different.
Compare this to the other competitors, who still make sure they are very close with me, which is as it should be. Other analysts say the same thing. This approach makes our jobs much more difficult, and it may backfire on the company before long.
Apparently, AT&T workers have noticed this too. When I talk with the employees at every level, from various parts of the company, I hear the same thing. They want AT&T to thrive, but things have just not been right for the past few years. It's as though everyone hears a bad sound coming from the car, but no one is fixing the problem. Eventually, the fast-moving AT&T may break down on the side of the road, and then its leaders will start trying to figure out what went wrong, but it will be too late.
They are still flying high today. They are still executing well — and if they can correct this problem, they will be fine. However, I have not seen any corrective action in the works.
The problem is that AT&T has lost so much in the process of changing over the last few years. Does anyone there even know it yet?
I understand what has happened. Things had to change at AT&T. The company quickly grew from the smallest to the largest baby bell, next to Verizon. It has a new CEO and a new HQ in a new city. Thanks to its new larger size, it has to digest the acquisitions and get everything under tighter control.
Maybe its executives can no longer have casual conversations like they did when they were part of the smallest company. Now that they are running one of the largest, they have reporters listening to every sound they utter and ready to write.
The world has changed for them too. However, distancing themselves from the marketplace may feel better in the short term, but it will eventually hurt them — with their workers, their investors and their customers, not to mention the media and analyst community.
I think everyone wants to see AT&T do well. It impacts so many workers, investors and customers. This problem is solvable. However, it is real and it is getting worse. AT&T needs to recognize and fix it.
has announced it will start selling its iPad
through Verizon Wireless
on Oct. 28, just in time for this year's holiday season. The loss of the exclusive must pinch AT&T to no end.
Pricing will be essentially the same. Verizon's offering includes a MiFi connector since the iPad is not yet compatible with its network.
The iPad is quickly growing in popularity, and I expect to see all of the wireless carriers bringing many similar devices to the market shortly.
---
Jeff Kagan
is an E-Commerce Times columnist and a wireless, telecom and technology analyst, author and consultant. Email him at
[email protected]
.