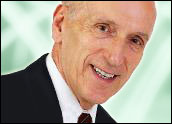 Before YouTube and MySpace, the Web 2.0 was neither as widely used, nor as widely known. At that time, companies that needed online collaboration and file sharing were its main users.
That all ended when YouTube and MySpace became so popular. Both sites have created a "gathering place" for younger people.
What Exactly Is the Web 2.0?
Briefly described, it is the latest evolution of the Web that enables people to take an interactive part in a particular Web site. This means that they can add all kinds of content to it: video, audio, chat rooms, blogging and instant messages. The Web 2.0 has empowered the Internet user to the highest degree ever.
Recently, I saw a discussion of the Web 2.0 and various definitions of it on a Harvard Business School Web site I sometimes visit. One of the professors spoke of the Web 2.0 as containing platforms that consist of various channels. For example, instant messaging would be just one of the channels, or subsets, of a particular platform.
---

Listen to Ted di Stefano (7:03 minutes)
---
I added my 2 cents by describing the Web 2.0 as a town meeting where all sorts of interaction is going on: a speaker might be speaking to the entire group; two or more individuals might be carrying on a conversation of their own; documents could emanate either from the main speaker or from the audience, etc.
The town meeting is obviously the so-called platform, and the individual communications that are occurring at this meeting can be referred to as channels.
The virtual creation of town meetings is what is driving the Web 2.0 — the latest evolution of the World Wide Web. It has empowered and engaged millions of people and will, no doubt, empower and engage millions more. It is here to stay and will only become bigger and broader.
In a previous article, "itLinkz: Market- Specific Social Networking," I talk about a company that is looking to form many unique online communities under one corporate umbrella.
Social Networking's Latest Direction
Recently I read that Cisco Systems is about to announce the acquisition of Tribe.net, a social networking site that you probably have never heard of. On the face of it, this is rather a strange combination. I feel that if a giant like Cisco Systems is jumping into the social networking arena, there's got to be tremendous promise in this relatively new venue.
A recent article in The New York Times spoke about "The new social networking players, which include Cisco and a multitude of start-ups like Ning, the latest venture of the Netscape co-creator Marc Andreessen, think that social networks will soon be as ubiquitous as regular Web sites. They are aiming to create tools to let ordinary people, large companies and even presidential candidates create social Web sites tailored for their own customers, friends, fans and employees."
I guess one could call this a Web 2.0 revolution. Yet, the fact is that many people with whom I have spoken recently have never even heard of the Web 2.0 or what it has done to enhance business efficiency.
For example, I recently wrote an article for the E-Commerce Times entitled "Electronic Portals: The New Generation of Board Preparation." These electronic portals make it possible to conduct paperless board meetings. All board members and interested corporate staff can not only see the board book evolve, but they can also provide added content and comments to this document. They can even synch their calendars with their board portal so that they'll have all of the relevant meeting dates.
Additionally, they can make comments and jot down notes that, if they so desire, can be visible to them only. It's sort of like being in a meeting, exchanging documents, then making some of your own personal notes on some of the documents. The only difference is that you are doing this online, from wherever in the world your travels may have taken you.
This is an example of a pragmatic business application of Web 2.0 technology. Such an application will make transacting business more efficient and seamless. So, obviously, there are applications of Web 2.0 technology besides mass media applications.
What's Beyond Web 2.0?
If we think of the Web 2.0 as a town meeting (platform), as I have described it above, and the individual happenings within that meeting as channels, what will be the next evolution of the World Wide Web? Of course, it's hard to say.
Suppose that we link all of these so-called town meetings — platforms — together in some fashion, and these platforms become subsets of larger platforms. Where will that take us?
My feeling is that for platforms to be intentionally merged in some manner there will have to be some homogeneity among the platforms, otherwise, no one will be interested in participating in such a merged platform.
However, if there is homogeneity, the merged platform will have great economies of scale, yet have the capabilities of a small town meeting in that all participants can have some input. This sounds great so long as the sheer numbers don't create chaos among the users.
We can use the example of a golfer to explain why merged platforms could be useful.
Suppose you were that golfer and belonged to five interactive golfing Web sites (Web 2.0 Web sites) and had to keep visiting each one separately. There would be created an obvious need for you to make just one "trip" to some sort of master Web site so that you could visit all of your different golf blogs without having to "bounce around" the Web.
Such an example seems to demonstrate the possible need for one massive platform, and there doesn't have to be anarchy when platforms are merged in some fashion.
If we think of YouTube as a massive interactive platform, though not a merged master platform, it provides a stellar example of the power of interactivity and collaboration without anarchy. Though some might argue otherwise, there is systemically no real chaos in the YouTube platform. Put simply, it works!
So let's keep an eye on the Web 2.0 and see where it takes us. It's going to be interesting.
Good luck!
---
Theodore F. di Stefano
is a founder and managing partner at
Capital Source Partners
, which provides a wide range of investment banking services to the small and medium-sized business. He is also a frequent speaker to business groups on financial and corporate governance matters. He can be contacted at
[email protected]
.
---