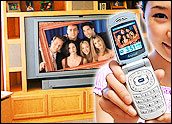 Sling Media, the maker of the Slingbox technology that enables remote access to TV programs stored on a digital video recorder, has made a beta version available of a service that can deliver video from various sources to mobile devices.
SlingPlayer Mobile lets Slingbox owners gain access to their stored video through mobile phones running on the Microsoft Windows Pocket PC software.
Watching on the Small Screen
The San Mateo, Calif.-based company said the software-based service will work with any smartphone or other hand-held running recent versions of Windows Mobile that work based on touch-screen technology.
Free trials of the service are currently available and will be available starting April 26th for US$29.99 per month. After that, Slingbox owners who buy and register the product before that date will get free licenses for the mobile software as well.
Blake Krikorian, co-founder and CEO of Sling Media, said the technology will deliver "the complete home TV experience" to compatible mobile devices.
The expanded functionality into video may be a major boost for Microsoft, which is aiming to propagate more of its mobile software amid stiff competition from incumbents such as Research In Motion (RIM).
"This is an exciting time for people who want a single mobile device that does more than e-mail," Scott Horn, general manager of the mobile and embedded devices division at Microsoft said in a comment clearly aimed at the popularity of the BlackBerry handheld made by RIM.
"While Windows Mobile enables people to stay on top of their job and connected to the people they care about, the platform also supports solutions such as SlingPlayer Mobile that give users the freedom to watch their favorite television content while on the go."
Finding Its Market
A list of compatible devices includes hand-helds made by Dell, HP, Palm, Samsung and Acer. From them, Sling users can access any of the video sources plugged into their home Slingboxes, which can include cable, satellite and DVR inputs.
Previously, Slingbox had focused on traveling users equipped with PCs, giving them the ability to use high-speed Internet connections to remotely log in and access video from the road, letting a road warrior, for instance, watch shows stored on their TiVo or other digital recorder at any time.
The PC-based version of Slingbox originally worked only with Windows, though some software patches to enable Mac users to link up with the product have been rolled out more recently.
The PC version has received high accolades, but has been relatively slow to catch on with mainstream users — and may never appeal to the majority of consumers anyway. The mobile version is seen running into different limitations, most notably the shortcomings of existing high-speed wireless networks in the U.S.
Sling said the fact that the mobile version works with different technologies may help, with users able to download on WiFi connections as well as the EV-DO and other high-speed cellular networks still being rolled out by major carriers.
Here, There – Not Everywhere
Wireless carriers have their own designs on delivering value-added video content, a potentially lucrative business. Even those accessing home Slingboxes may use up more mobile Web minutes than they normally would, potentially making the service a boon for carriers as well.
While the size of the mobile TV market is still relatively tiny, there are signs that consumers are eager to be connected to video sources, especially during big events. This month's NCAA basketball tournament, for instance, has already set several records for Internet-based streaming levels.
Sling is hardly alone. Earlier this month, TiVo announced it would form a partnership with Verizon to deliver the ability to program DVRs remotely from mobile handsets.
So far, demand for mobile video is not rampant, noted Yankee Group analyst Michael Goodman. It won't take much of a shift, however, for significant gains to be realized by the industry, with U.S. consumers last year spending more than $112 billion on entertainment-related products, just 1 percent of it in mobile-ready format.
"The most successful companies are the ones that realize that the lines between broadband and mobile will blur and be gone in a matter of years," Goodman said. "It will become irrelevant what type of device games, music and movies are played on."
Still, analysts say it's only a matter of time before consumers adopt wireless video. Figuring out who will help deliver the content and to which devices are the key questions to be answered. Apple has tried to establish the iPod as a mobile video device, while others say the streaming capabilities of smartphones and their ability to perform multiple other functions will win out in the end.