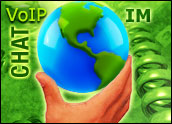 Skype Technologies, viewed by many as a pathfinder in the bid to bring voice over Internet protocol (VoIP) calling to consumers, said it has collaborated with Siemens on technology that will enable traditional cordless phone users to have their calls sent over the Internet.
The product, being made available first in European countries such as England, Germany, Austria and Switzerland, marks one of the first efforts to enable a single cordless phone for both traditional calling and VoIP.
The Siemens USB adaptor is fitted with Skype software that allows users of Siemens phones to access Skype's free Internet calling service as well as other features, such as buddy lists and conference calling. Currently, the products are available only in Europe, but the companies said they are testing them in other regions and expect to have them available elsewhere early in 2005.
The adaptor plugs into a user's PC and communicates with the phone's base station to make or receive Skype calls. Siemens is selling it for around US$130 and bundling it in some markets with Skype calling minutes.
Breaking Down Barriers
The technology will likely provide a huge boost to Skype, which is already a leading provider of VoIP thanks to its software that enables users to make free calls to other Skype users and low-cost phone calls to others via the Web.
The company said consumers have downloaded 32 million copies of its software since it was first made available in August of 2003 and counts more than 1 million regular users worldwide.
Skype CEO Niklas Zennstrom said Siemens is helping to deliver "a giant step forward for Internet telephony for the residential market."
It also helps to lend credibility to a Skype effort to entice developers to build products that work with its software, releasing an application programming interface, or API, to encourage such development. Skype formally launched that effort yesterday.
Clearing the Decks
Skype appears well positioned to take advantage of an increasingly favorable regulatory environment for Internet-based calling.
In the U.S., the Federal Communications Commission issued a ruling earlier this week that such services are not subject to state-by-state regulation because the services reach across state borders. That ruling came in a case involving Skype competitor Vonage and attempts to force it to make an emergency 911 service available and compatible with traditional versions.
The FCC is attempting to draft rules to govern VoIP, including spelling out 911 requirements.
While Skype, Vonage and other early players might have cleared the way for VoIP, Current Analysis analyst Brian Washburn said the proof that the technology is poised to take off is shown by the fact that major carriers such as AT&T and Cablevision have begun to roll out their own offerings.
"Those companies are recognizing a level of comfort with the idea of Internet calling and a level of maturation of the technology, which has been around a long time," Washburn said. "The arrival of those companies on the scene usually indicates a technology is at or approaching the mainstream."
The arrival of those larger players into the VoIP market could be bad news for the likes of Skype in the long run, since they can offer bundled services to consumers, such as broadband Web access and cable TV all at once, and because most analysts say Skype's products are generally not robust enough yet for corporate use.