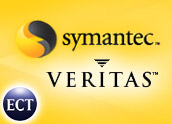 A major shareholder advisory firm is urging stock owners to vote against Symantec's US$11 billion purchase of Veritas Software.
Glass, Lewis & Co. recommended Symantec shareholders oppose the acquisition of Mountain View, Calif.-based Veritas when they vote on June 24, saying the deal appears to lack clear strategic benefit.
"The merger appears to be driven by management's desire to be bigger for the sake of being bigger," Glass, Lewis wrote in a report to its clients, which include many of the largest institutional investors in the U.S. "History would indicate that such mergers, especially in the technology world, often fall short of expectations."
Fourth-Largest Software Firm
The firm went on to say that it was "unconvinced that there is any great benefit" in combining the two companies.
The acquisition was valued at more than US$13 billion when first announced but has fallen as Symantec shares slid amid questions about the deal.
If consummated, the merger would create the fourth-largest software firm in the world in terms of sales volume. The combined company would have 2005 revenues of around $5 billion, about a quarter of it from consumer sales of Symantec's antivirus tools and the rest from business customers.
Symantec has said the buy makes sense since the customers who buy its network and PC security products are also interested in managing their storage systems, which Veritas' products target.
Synergies Claimed
Symantec argues that it can become a one-stop shop for enterprises seeking better security, storage and control of their data and can offer storage and security products as well as tools to help manage data as it flows from one area of a network to another.
Symantec has also focused on the merged companies' power to reduce the complexity of buying and managing various networking software products for enterprises by enabling them to have a single vendor for a much broader range of services and software.
However, Forrester Research analyst Galen Schreck agreed with the Glass, Lewis assessment that there are no obvious technological synergies, but instead an opportunity for "market dominance and extension of reach" with each product line getting exposure to the other firm's customer base.
Schreck, though, said the purchase could be necessary for Symantec both to remain competitive as Cisco, HP, IBM, Sun Microsystems and even EMC look to offer a wider range of enterprise storage products and to avoid becoming a takeover target itself.
Green Light Seen
Analysts believe the deal will still get approval from shareholders of both companies when they vote in coming weeks. Investors who share the sentiment expressed by the firm have likely already sold their shares.
Veritas shareholders might be especially eager to see the deal consummated, since that company has seen declining stock prices in recent years as more large technology firms eye the booming data storage market.
The deal could rank among the largest software purchases ever, finishing ahead of Oracle's $10.6 billion takeover of PeopleSoft. That deal was the focus of a lengthy shareholder battle but one waged on behalf of the company being purchased rather then the buyer.