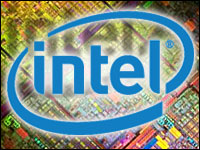 Intel's launch of its new Xeon processor E5-2600 product family (aka "Sandy Bridge") marked numerous firsts for the company and x86 data centers. The new processors deliver leadership performance, best data center performance per watt, and breakthrough I/O innovation features, according to Intel, including the following:
up to eight cores per processor and up to 768 GB of system memory (previous generation Intel Xeon 5600 processors had six cores and up to 288 GB of system memory), increasing performance by up to 80 percent over the 5600 series;
a more than 50 percent improvement in energy-efficient performance (as measured by SPECpower_ssj*2008) compared to the 5600 series; and
Intel Integrated I/O (IIO) and Intel Data Direct I/O (DDIO), which help reduce power consumption and I/O latency. The E5-2600 product family is also the first to integrate the I/O controller supporting PCI Express 3.0 directly into the microprocessor, reducing latency up to 30 percent, and up to tripling the movement of data into and out of the processor.
Overall, Intel believes E5-2600 processors are not only at the heart of next-generation servers and workstations, but will also power the next generation of storage and communication systems.
Barriers Coming Down
Being the world's largest and most successful microprocessor vendor has allowed Intel to find places "inside" technology devices and solutions of most every kind. But the company has been so effective at maintaining its continuing market leadership position that it is all too easy to forget a simple point — that Intel succeeds by providing its OEM/ODM customers the elemental technologies they need to develop and deliver successful next-generation computing solutions.
The new Xeon E5-2600 shows how this works. Remember that the world of x86 data center computing is at an inflection point, of sorts. Consolidating x86 systems and workloads with virtualization solutions from VMware and other vendors has become a fact of life for most companies, and also provides the foundation for the growing acceptance and uptake of cloud computing.
In addition, server vendors are rapidly adopting what might be called a "systems thinking" approach to product development. The result has been a concerted effort to enable easy and rapid flow of data across all system components and data center assets, including highly scalable servers, storage arrays and networking switches.
A host of new tricks and tweaks, such as utilizing SSD drives to support high performance cache, are also resulting in x86 systems with performance that would once have been mind-bogglingly impossible.
Finally, the barriers between x86 systems and traditional business- or mission-critical Unix and mainframe computing platforms continue to erode significantly. In fact, it's interesting to note just how many of the vendors launching new solutions based on the new Xeon E5-2600 family are using business-critical phraseology in their promotional material.
Taking It to the Next Level
IBM, a stalwart vendor of traditional business-critical platforms, is a good example of this point. The company announced five additions to its System x solution portfolio based on Intel's new E5_2600 chips. Along with taking full advantage of the improvements in system performance, memory capacity, energy efficiency and I/O throughput Intel has made with in Xeon E5-2600, IBM has layered-on its own secret sauces.
The company focused a great deal of attention on simplifying system deployment and easing management processes, facilitated in part via the work performed by its System Software organization. In addition, a warm water-cooling option available in the new iDataPlex dx360 M4 delivers a notable boost to what has long been one of the market's most innovative and energy-efficient x86 systems portfolios.
In essence, technical enhancements in Intel's Xeon E5-2600 processors are providing the company's server OEMs the means to take their Xeon-based offerings, and the organizations using those solutions, to the next level. That's great news for those vendors and their customers, but you should also expect Intel to drive new developments in the storage and networking markets.
In the past half a decade, Xeon has become the CPU of choice in all but one of the market's Tier 1 storage vendors that use Intel silicon in their controllers. In addition, the acquisition of 10GbE networking innovator Fulcrum Microsystems last July underscored Intel's intention to similarly expand its offerings for networking/communications vendors and solutions.
The company's journey in those areas should be commercially fruitful, but the eventual destination is what Intel calls "converged IT infrastructures" where Xeon CPUs deliver the processing horsepower for highly integrated and interconnected server, storage and networking assets. Intel's new Xeon E5-2600 family offers a robust engine for a variety of next-generation servers, systems and workload-optimized appliances today, but it should also help Intel drive into new markets and segments.