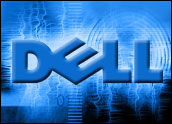 We in IT love inflection points — events that somehow amalgamate past events and/or indicate how and why the future will be significantly different. The world of personal computing is entering, if not an inflection point, then an inflection process. This is due to the confluence of two converging technologies — Intel's Ultrabook initiative and Microsoft's new Windows 8 operating system.
The former is Intel's effort to assist its OEM partners to change the personal computing equation by delivering next generation notebooks with world-class x86-based compute performance and power efficiency. The latter reimagined the Windows user experience for the first time in a generation. Though Microsoft officially launched Windows 8 on September 13, few existing systems were fully capable of exploiting its capabilities, especially the new touch interface. Things have changed significantly over the past few weeks as major vendors began new all-in-one desktop PCs, tablets and convertible or hybrid notebooks.
One of the best of the new convertible solutions is Dell's new XPS 12, the latest entry in the company's XPS line for customers the company calls "prosumers" who need to fully support business processes and applications but also appreciate innovative features and stylish design. Like previous XPS models, the XPS 12 takes full advantage of Dell's design philosophy while also maximizing the features and benefits of Windows 8.
Overall Appearance
I've been road-testing a Dell XPS 12 for the past few weeks and have found the experience both exhilarating and disconcerting, though pleasantly so. The system I'm using a system has an Intel Core i7 2 GHz CPU, 8GB of RAM, a 256GB SSD and Windows 8 64-bit Pro. It retails for US$1,699 at Dell's website. That's a fully loaded Ultrabook by any measure, but won't deeply impact most of the issues I plan to discuss. The XPS 12 lineup starts at $1,199.
The XPS 12 has a slightly smaller footprint than the XPS 13 Dell introduced earlier this year, but the new system is a bit heavier (3.35 lbs. vs. the XPS 13's 2.99 lbs.) and uses many of the same materials, including brushed aluminum and carbon fiber. The biggest difference in looks relates to the latter material; rather than copying the XPS 13's sleek aluminum top cover, the XPS 12's display is backed with matte black carbon fiber set in an aluminum frame. The external appearance is somewhat formal, even severe but has a great feel and will look great at the office.
The carbon fiber also superbly mixes strength and lightness of weight. That's a critical point related to the system's convertible mechanism; pivot hinges that allow the display to swivel 180 degrees in landscape mode to lay flat against the keyboard for use as a tablet. Of the hybrid designs I've seen (the XPS's 12 swivel, Toshiba's flip/slide, Lenovo's bend-back, HP's pivot point and Acer's dual display), Dell's offers the easiest and most seamless tablet transformation. More importantly, it also provides great stability when in regular notebook mode, a critical issue for using Windows 8's touch features.
Practicalities and Performance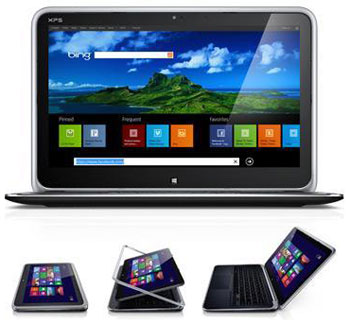 The Dell XPS 12 takes full advantage of Windows 8's touch features.
SSD-based systems tend to start up faster than those with conventional HDDs but Dell's XPS 12 takes that into another realm. Booting cold — from power off to a usable desktop — takes 10 seconds or less, and waking from sleep mode is nearly instantaneous. Overall system and application performance is crisp and quick — not surprising given the SSD and Core i7 CPU. Along with a highly sensitive and durable Corning Gorilla Glass touch screen, the XPS 12's Gorilla Glass trackpad is also top-notch. The lightly scalloped keys are solid and sensitive, and the keyboard backlighting (a great help on evening flights) is terrific.
The XPS 12 includes an exceptional 12-inch HD WLED display with 1920X1080 resolution, 400 nit rating and support for 10-point multi-touch. At full HD resolution, the XPS 12 delivers beautiful, fully saturated images making it great for multimedia consumption. However, while fine-grained HD is great for viewing feature films and other content, on-screen icons and text are nearly too small to read in standard mode –a minor problem that can be fixed easily by increasing text size to 125 or 150 percent.
XPS 12 system performance is well above average, but battery life is less so. Dell estimates 6-7 hours average use on a full charge, but most third-party reviews have pegged it at a more pedestrian 4-5 hours. That the XPS 12's battery can't be replaced or switched out by the user further complicates this issue. Using power conservation methods, especially dampening screen brightness, should help extend battery life. That's obviously more attractive for, say, running productivity apps than watching high-def movies, but it also speaks to the XPS 12's position as a system designed to support both play and work.
Some reviewers have dinged the XPS 12 for lacking dedicated SD card and HDMI ports. While both would be nice, I consider them more important to consumer use cases than business processes. Since the XPS 12 provides ports for USB 3.0 and DisplayPort, adapters for HDMI and SD cards offer easy workarounds.
Reflections on Windows 8
I've done light testing with Windows 8, but the XPS 12 provided my first opportunity to use its touch features extensively. Interestingly, a few common complaints about Windows 8, like reported difficulties with switching between the new Start screen UI and the conventional desktop, are simply nonsensical. The Start screen features a large "Desktop" Tile that leads directly there. That said, Microsoft's recommended use of key commands will probably take some getting used to for many, if not most, users.
Something I particularly appreciate about the Modern Desktop is its easy customizability. That's an important point since systems ship with what looks like a Microsoft executive's dream — neatly assembled tiles featuring the company's various integrated commercial apps and services. I kept a small handful of those — the Weather app is particularly nice — but replaced most with alternatives from the Microsoft Store, including Google Search and the Chrome browser.
Complaints about the size of the Microsoft store are reasonable–the selection is puny compared to Google's Android Market and Apple's App Store — but many high visibility developers, services and outlets are present and more will certainly come over time. However, that brings up a critical point about the intended audiences for these devices. At this point, Windows 8 touch-enabled apps are clearly more consumer — than business-oriented. That's not surprising given Microsoft's strategy around holiday buying. But successfully making a compelling case for the new OS among commercial organizations will require rapid development of industry — and business-specific apps. Without that, the case for migration to Windows 8 will be a hard sell.
Overall, Microsoft's new OS delivers a responsive and relatively seamless experience, though not one that is as fully intuitive as previous versions of Windows. As with any unfamiliar technology, continued use should smooth out any rough spots. Plus, the sheer improvements in general system performance afforded by Intel's latest Core processors should help sweeten learning-curve issues.
Final Analysis
Personal computing has long been a process which requires end users to consider and embrace compromise. No single device is perfect and the rise of complementary trends, including mobility and BYOD, simply reflects and further expands the ways people use and are enriched by digital devices.
That said, some efforts designed to move the ball forward actually end up doing far more than that, pressing the industry and market into inflection-point territory. Intel's Ultrabook initiative and Microsoft's Windows 8 are good examples of that, and Dell's new XPS 12 demonstrates the great kind of innovation that can result.
More importantly, Dell's XPS 12 shows what can occur when an innovative vendor aims to fundamentally reduce the compromises IT end users are so often forced to make. With the XPS 12, the result is no "Swiss Army Knife" gizmo sporting numerous, half-hearted features, but a single device that delivers seamlessly integrated, fully operational, touch-enabled notebook and tablet performance.
Overall, Dell's XPS 12 has set a very high bar indeed for what vendors can achieve and end users should demand from Windows 8 convertible Ultrabooks.