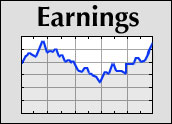 Research In Motion posted strong earnings and sales growth in its fourth quarter. The positive news signals that it has not seen the Apple iPhone cut into the market share for its BlackBerry device and that adoption may continue to grow even amid a weakening economy.
RIM beat Wall Street targets for the quarter ending March 1, shipped a record number of BlackBerry handsets and issued an outlook that was also more robust than expected.
The result was a surge in RIM shares, which were up 6 percent in midday trading Thursday to US$122.64.
No Slowdown Evidence
The Canadian firm said both revenue and profit more than doubled, with net income at $412.5 million on $1.88 billion in revenue, up 102 percent from the same quarter the year before. Analysts were expecting revenue of $1.85 billion.
RIM added a record 2.18 million users in the quarter, bringing its total subscriber base to 14 million.
"We did not see any evidence of a slowdown in our enterprise business outside of normal seasonal trends," co-CEO Jim Balsillie said.
The results not only suggested that the iPhone hasn't dented demand for the BlackBerry, but also lent support to RIM's strategy of moving into the consumer market with lower-priced versions of the corporate-friendly e-mail device.
Raised Outlook
Looking ahead, RIM said it would add another 2.2 million customers in the current quarter. Revenue for the quarter will be $2.23 billion to $2.3 billion, it noted. Both numbers are at the high end of analyst targets.
The results suggest RIM and Apple may be on a collision course of sorts. Apple has moved to position the iPhone for enterprise use, while RIM has been aggressively courting consumer users, a move the company said has paid off with a much more diversified customer base. Today, 38 percent of BlackBerry subscribers are non-enterprise accounts, thanks in large part to the success of newer, lower-priced models such as the Pearl and the Curve.
Though it did not address the iPhone competition directly, RIM did say it saw "unprecedented sales growth" through AT&T — the exclusive carrier of the iPhone and, as a result, the one wireless provider where BlackBerry devices are sold alongside the iPhone.
In some ways, RIM may be benefiting from the iPhone, telecom industry analyst Jeff Kagan told the E-Commerce Times.
"While RIM planned on moving into the consumer space to increase sales, it did not expect such a big competitor as iPhone to pop up on the scene," he said. "Apple is expanding the marketplace and growing rapidly. The question is, will they eventually pass RIM? There is no way to know at this point. It all depends on a continued flow of good product."
There are also others vying for the same market, Kagan noted, such as Palm, which has run into hard times but could roll out a product that revives its fortunes.
"RIM started with business [customers], and Apple started with consumers, and [they] have both done very well," Kagan added. "This next chapter puts them into direct competition. Who will win is the question. Maybe both, and they will continue to battle it out."
Looking Ahead
While acknowledging the market could change quickly, Balsillie said the factors driving adoption of the BlackBerry aren't changed by economic fluctuations.
"Interest rates going up or down a little bit … or credit issues have not seemed to be principle drivers on the factors that are moving our industry and our sector we are in," he said. "We are in such a productivity cycle with this stuff. I think the growth drivers are much more sector-specific and much more sort of management- and execution-specific than they are macroeconomic."
RIM is poised to roll out a model with touch-screen functionality similar to that of the iPhone, though it has not said when that device would be available.
Apple, meanwhile, is positioning the iPhone as a more enterprise-friendly device. Apple has moved to address security, control and other concerns that initially kept the device from being appropriate for business deployment.
The iPhone is not yet ready for the type of large-scale deployments the BlackBerry enjoys, but it is moving in that direction, Gartner analyst Ken Dulaney told the E-Commerce Times.
"Eventually, it will take its place alongside the BlackBerry and Windows Mobile devices and compete for market share in that space," he said.
That may take some time, however, given the deployment cycle time large-scale businesses face in integrating new technology. In the meantime, RIM will continue to add features on both the business and consumer sides. For instance, it recently said it would partner with social networking and entertainment site Dipdive to provide services to its devices.
Meanwhile, RIM's strong performance came despite a quarter that saw it experience another interruption in its service. It was the second wide-scale outage in less than a year for the service, but the subscriber growth suggests the short-term downtime is not enough to drive customers away.