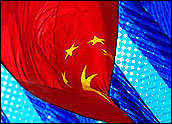 After years of waiting and lobbying, Research In Motion (RIM) has finally won governmental approval to sell its BlackBerry mobile e-mail devices to users in China.
The company is preparing to start selling its handheld devices in China as soon as the end of August, and it has approximately 5,000 presale orders from Chinese customers, mainly multinational companies with operations in the the country, according to Toronto's Globe and Mail. RIM executives have said in recent days they are in the process of finalizing plans for the China launch of the BlackBerry.
China Mobile, already offers the BlackBerry e-mail service to its customers through a partnership with RIM, but the service relied on third-party handsets because the BlackBerry had not yet been approved for sale in mainland China.
The Chinese government did not make a formal announcement on the approval; RIM did not immediately return calls seeking comment on its time frame for selling in China.
However, just last week, RIM co-CEO Jim Balsillie said that the company was ramping up efforts to service corporate customers in Chinese cities such as Beijing, Shanghai and Guangzhou, an acknowledgment that was seen as an indication that the long-awaited approval was close.
Targeting Business
RIM had first asked China for permission to sell the BlackBerry there some eight years ago. The market is expected to offer steady but not spectacular growth. There are fewer than 500 million mobile phone users in China today, according to data from Gartner, and only a fraction are expected to be able to afford the high-end device.
RIM shares were up about 2 percent in morning trading Thursday to US$211.66.
At least initially, the company will target corporate users, offering its 8700g handset and monthly service through China Mobile. No pricing has been announced, but speculation is that the device will sell for close to $700.
It wasn't immediately clear whether RIM was forced to make any modifications to its service to appease government officials.
Among the concerns regulators had was the ability of BlackBerry users to quickly exchange messages with its SMS (short message service) without having them routed through a central location. The device also has encryption capabilities that may have raised concerns among Chinese regulators, who closely monitor and control Internet discussions.
Staying Competitive
China could be a valuable hedge for RIM against any possible slowdowns in the U.S. and Europe due to the launch of Apple's iPhone, which offers e-mail and enhanced mobile Web surfing.
China may not provide a rocket boost to sales, however, with hurdles remaining to effectively selling into the country, Gartner analyst Ken Dulaney told the E-Commerce Times.
For starters, China Mobile, is mainly a consumer-focused company — not one that traditionally works with enterprises — and RIM gets most of its sales in established markets.
"To effectively penetrate the mass market in China, it will have to ramp up its efforts considerably," Dulaney said. While China Mobile may prove a valuable partner in the future for reaching consumers, the cost of the BlackBerry will remain an issue. "Pricing will be a key factor in uptake."
RIM has begun to offer more affordable versions of its handhelds, rolling out models such as the Pearl and the Curve, but even those options may no be able to overcome cultural hurdles in China. "E-mail is not the favored medium in China — they have leapfrogged to text messaging," Dulaney said.
Black and Red All Over
In China, BlackBerry has also faced the prospect of competing against low-cost imitators, notably the RedBerry. RIM has maintained that its service offers much higher functionality and better performance and that users would eventually choose the quality of its service.
Even without China and even with the renewed competition from the iPhone, RIM is enjoying a strong run of growth. The company's stock surged some 20 percent late last month after it announced first-quarter earnings that included a 73 percent increase in net earnings.
RIM said its growth would continue, with the company predicting it will add 1.3 million customers in the current quarter, compared to 1.2 million in the first quarter. It now has more than 9 million active subscribers.
RIM will have plenty of company in targeting Chinese users with the BlackBerry, Think Equity Partners analyst Jonathan Hoopes told the E-Commerce Times. Several rivals, such as Nokia and Motorola, are already selling into the country, he noted.
"The upside for RIM is that China is another in a long list of international markets where it will be getting growth for the foreseeable future, even if it doesn't become the dominant player," Hoopes said. In recent months, RIM has used partnerships with mobile carriers to roll out its service and devices in places such as Bahrain, Kenya, Malaysia and El Salvador. "The international footprint is huge and China would fill a significant gap."