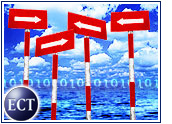 Recognizing that more consumers than ever would take to the Internet for holiday shopping this year, the U.S. Federal Trade Commission warned consumers to be cautious. Their first piece of advice: Deal with only those companies that you know and trust. But because the Web is a blind medium, sometimes it is not even possible to verify the identity of the person at the other end of a transaction. On the disinformation superhighway, scams are increasingly successful at passing for the real McCoy.
Take the recent scam aimed at eBay users. Thousands reportedly received e-mails telling them to visit a site, which contained eBay in the URL, to update their personal information, including their credit card data. The site was shut down after a few days and investigators are still trying to sort out whether anyone fell victim to the ploy.
Proof Positive
Regardless of whether any damage was wrought, the incident is evidence that scam artists are becoming more sophisticated in their efforts to stay one step ahead of an increasingly savvy online public.
"The same scams that worked four years ago won't work today," FTC spokeswoman Andrea Foster told the E-Commerce Times. "The online scam has evolved … to a point where it's not always just the gullible who are falling prey." But that is not to say that simple ploys are not still being operated on the Web.
Smoke and Mirrors
Federal regulators recently took enforcement actions resulting in sanctions and fines against the following bogus operations:
phony investment opportunities;
an online work-at-home scam that collected some quarter-million-dollars from consumers but never delivered any promised envelope-stuffing work; and
a rash of fake medical sites claiming to sell everything from cancer treatments to anthrax cures.

As in past years, the FTC says that auction fraud, most notably a seller's failure to deliver goods won at auction, is among the most common consumer gripes about the Web. In 2001, the FTC received more than 20,000 such complaints. "That has consistently been at the top of the list," Foster said.
ID Please
But closing fast is online identity fraud — the exact type of scam recently run on eBay users. And it takes many forms.
For instance, the FTC recently announced that it had reached a settlement with a company accused of charging consumers for accessing adult-themed Web sites even though they had never even visited the sites, let alone agreed to pay for content. That settlement was valued at US$1.6 million.
Federal authorities also have busted a number of online gaming sites, some of which took bets via credit card or checking-account transfer with no intention of making payouts.
Traditionally, jurisdictional issues have hampered online enforcement and consumer protection, but as more commerce moves online, those boundaries are being erased, Yankee Group analyst Lisa Melsted told the E-Commerce Times. Still, she added, "it's likely that every investment scam shut down by the SEC or the FTC, there are 20 more out there like it."
Percentage Play
The vast majority of Web users probably will never fall victim to a scam. The Pew Internet & American Life Project found that the fraction of all Internet users susceptible to blatantly false or misleading online information is only about 2 percent.
But with about 110 million Americans now using the Web regularly, that still represents a tempting audience for those who prey on that population.
"The fact that the Web is becoming more mundane for people is a double-edged sword," Internet marketing consultant and Columbia University professor Ruth Stevens told the E-Commerce Times. "At the same time consumers are more sophisticated, they are also more likely to trust a Web site with their private information. The more times they do that, the more vulnerable they are."