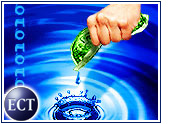 Venture capital investments tumbled another 26 percent in the third quarter, with quarterly funding levels falling below US$5 billion for the first time since 1998, according to a new report released by PricewaterhouseCoopers, Venture Economics and the National Venture Capital Association.
Venture capitalists sank $4.5 billion into startups during the quarter, the report said, down sharply from $6 billion in the second quarter and $6.4 billion in the first three months of 2002.
The number of firms receiving funding also dropped sharply: Only 437 companies closed deals, compared with 838 in the second quarter.
Bad Old Days
The last time funding totaled less than $5 billion in a quarter was in early 1998, before the dot-com stock market boom went into overdrive.
Mark Heesen, president of the National Venture Capital Association, told the E-Commerce Times that investment firms are becoming more selective as they face reduced prospects for lucrative short-term exit strategies, such as initial public offerings or high-valuation takeovers.
"Investors have concerns about a startup getting a foothold in a market like today's and also about the realistic prospects for an exit strategy," Heesen said. "The result is an increasingly cautious venture community."
Pick and Choose
Tracy Lefteroff, global managing partner at PricewaterhouseCoopers, said the current venture funding environment reflects overall economic concerns, including the plunging stock market, which reached lows not seen since the mid-1990s during the latest quarter.
"Entrepreneurs must recognize the fact that only the most fundamentally sound deals get done," Lefteroff said.
All industry sectors showed declines in the third quarter, according to the report, but some areas held their own in terms of the overall funding pie. Software funding, for instance, fell 10 percent to $993 million in 180 separate deals, but still made up the lion's share of venture investment, with 22 percent of the total.
In comparison, telecommunications funding tumbled 32 percent to $555 million, with just 67 companies receiving capital, and networking firms saw a 34 percent drop, to $341 million in 39 deals. Even life sciences, which previously had stepped in to pick up much of the technology slack, had a weak quarter, with biotechnology investment plunging 52 percent.
Early Bird
The third quarter also saw fewer firms close their first round of funding, with 159 first-time deals, down from 214 in the second quarter. First-rounders' share of the pie grew, however, to $1.03 billion, or 23 percent of all investments. Software startups made up 18 percent of all first-time investments, with 46 companies taking home $187 million.
More money was directed toward later-stage firms. Those in the so-called expansion stage took 56 percent of all venture capital, and later-stage firms took 20 percent, up from 13 percent in the second quarter.