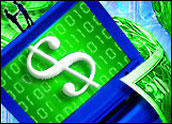 Consumer spending on broadband-delivered online services — from streaming music and video to voice over Internet protocol phone calling — more than doubled last year, according to a new report that bears promising news for telecommunications carriers as well as e-commerce companies and their content-provider partners.
Research firm Point Topic said that at the start of 2004, the annual rate of consumer spending on what it calls broadband value-added services, or BVAS, was running at an annual rate of US$3.3 billion. By year's end, that figure had leapt to $6.9 billion worldwide.
In fact, Point Topic said the data bears especially good news, since the growth of revenues and users of value-added services outpaced even the rapid expansion of broadband adoption itself.
Comfort Level Improving
Consumer broadband subscriptions — which includes both DSL lines and cable broadband — were up about 45 percent, the firm said. The difference likely means that existing users are becoming increasingly comfortable paying for Web-delivered content and services.
Senior analyst John Bosnell, who authored the report, said the broadband services niche is "vitally important for service providers who need to find ways of increasing the revenue they receive from broadband." Services such as video over broadband, music and voice over IP all grew strongly."
For telecom companies, the news is important because there is pressure to keep subscription fees low amid rabid competition among local telephone companies, larger telecom players and cable companies, all of which are increasingly offering bundles of services that include telephone, wireless calling, broadband Web access and cable television.
It could also create additional demand for a range of e-commerce services, from music and video downloads to customized, premium services such as enhanced e-mail from Web portals.
"Carriers are going to be looking for ways to enhance their revenue," independent telecom analyst Jeff Kagan told the E-Commerce Times. "We've already seen how that leads to cable and telcos converging on the same spot in home entertainment and communication services."
Fun and Games
The report is just the latest to point to the huge potential of the online services delivery channel, which has long been envisioned but has only recently begun to materialize as broadband usage in the United States surpasses 50 percent of the entire Internet population and as consumers become increasingly confident about their online shopping experiences.
Other drivers of the growth, Point Topic said in its report, were security services, such as suites of antivirus and other services offered to broadband customers — often as a free benefit with some subscriptions, or as an added value service — and home networking tools and services.
By far, the biggest percentage gainer was in what it calls Internet voice, which the firm said is significant in part because it is "a true application of broadband rather than a supporting tool."
"The success of music downloads was a particularly encouraging indicator of the potential of content applications over the Internet, where users are provided with attractive services at the right price," the firm noted. Other growth areas included online gaming and video-over-broadband, which grew an estimated 10 times during the year.
"We expect BVAS to continue to increase in revenue-generating importance as margins on standard broadband access become smaller," Bosnell added.