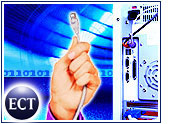 The worldwide server provider router (SPR) market dipped 7 percent in the second quarter of this year, according to a Gartner Dataquest report.
Dataquest defines SPRs as carrier-class routers capable of providing multigigabit bandwidth in support of high-speed wide area network (WAN) interfaces. These devices are typically designed for installation in service provider networks.
The SPR market totaled US$494 million in the second quarter, down from the first quarter. Competitors in this space include Jupiter, Unisphere, Redback and Nortel. However, Cisco was the overwhelming leader, with its SPR revenue climbing to more than $300 million in the second quarter.
Dealing with Declines
"The SPR market decline is due to the slowdown in telecom spending and the fact that service providers still have excess capacity in their networks, which will last them at least two more quarters," Gartner Dataquest principal analyst Jennifer Liscom said.
With the telecom shakeout still under way, there are fewer and fewer service providers, a trend that contributes to declining sales in this area. Yankee Group analyst Zeus Kerravala told the E-Commerce Times that telecom spending has halted because there is no catalyst for increased spending. "Everyone is in sort of a batten-down-the-hatches mode," he said.
Cisco's Light Shines
Despite the grim news, Cisco has a commanding 60 percent lead in the SPR market, according to Dataquest. The networking giant shipped 1,862 machines that quarter, more than double the number of shipments made by Juniper, Cisco's nearest competitor.
Part of the reason for Cisco's dominance is its broad range of product offerings. Kerravala said Cisco is not always the top of class in every product category, but hepointed out that the company offers systems for every category and has built a strong reputation by doing so.
"It's like what Intel has done," Kerravala noted. "People care what microprocessor is in the PC. And people care what type of infrastructure their vendor's network is built on."
Competing with the Giant
Juniper placed second in sales with 17.7 percent market share and $87.3 million in second-quarter revenue, while Unisphere placed third with 7 percent market share and $34.7 million in revenue.
Redback and Nortel rounded out the top five, with 4.7 percent of the market going to smaller players.
While Cisco dominates the market, analysts said smaller companies should be encouraged that enterprises are spending money, rather than discouraged by the daunting prospect of taking on the networking giant.
"The attitude that you can never beat Cisco is a give-up attitude," Kerravala said. "In the 1980s, a little-known company named Microsoft might have taken that attitude with IBM. But they won the operating systems war."
Opportunities Abound
Indeed, while the top-tier vendors account for more than 90 percent of revenue and shipments in this market, analysts said there are still opportunities for other vendors.
"The worldwide SPR market is still relatively young, so other vendors still have time to capitalize on this emerging industry," Liscom said. "Many technology suppliers will have products by 2003, and they will begin to challenge the incumbents as service providers reevaluate their next-generation product needs and begin spending."
The challenge for smaller players is spending enough money on research and development to keep pace with Cisco. Kerravala said smaller companies can compete by differentiating their businesses and sticking with what they know best.
Waiting for the Rebound
In the meantime, the entire competitive landscape — large and small players alike — awaits a spending rebound. But analysts said they do not expect a major turnaround until late 2003.
"Routers and switches typically have a life span of three to five years," said Kerravala. "If people upgraded for Y2K, we'd be looking at a timeline of 2004."