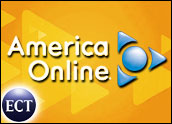 AOL may offer its full menu of services, including e-mail, at no cost to anyone with a high-speed Internet connection, according to a Wall Street Journal report published Thursday.
The Time Warner unit could be forsaking as much as US$2 billion in annual subscription fees in an attempt to drive more traffic — and hopefully more ad revenues — to its Internet properties, the Journal reported.
Under the new business model, AOL would no longer charge subscription fees for users with high-speed Internet access or dial-up service from another Internet Service Provider. Subscribers who have traditional AOL dial-up access, though, would still have to pay the monthly fee.
The High-Speed Drain
According to the newspaper report, AOL expects as many as 8 million of its existing paying dial-up customers would cancel their subscriptions to take advantage of the new offer. Close to one-third of the company's 18.6 million customer base already has high-speed access.
AOL is rapidly losing high-speed Internet access subscribers to other providers. The company reportedly lost 850,000 paying customers in the first quarter of 2006.
AOL has been attempting to plug the drain with various broadband initiatives. The company began providing its own broadband access in 2003. Last January, it started striking deals with telcos and cable operators to provide broadband access.
"Within the last six months or so AOL has charted a very changeable course through its various broadband offerings," JupiterResearch Analyst Joe Laszlo told the E-Commerce Times. "It definitely would be a big change for AOL. The change might confuse some of its customers."
No Turning Back
If AOL does decide to push its service to customers for free, it is a move the Internet pioneer would find difficult to reverse. Analysts agree that any company would find it virtually impossible to reinstitute fees after the fee wall comes down.
"It will be interesting to see if AOL keeps one or two services, like e-mail, behind a for-pay wall or if it literally makes everything ad-supported going forward," Laszlo speculated. "If I were AOL, I would probably lean toward the idea of maybe keeping e-mail addresses for a nominal fee."
Laszlo's reasoning is based on consumer value. Giving away the farm could devalue the brand in the eyes of consumers. Even Yahoo has a few premium services. AOL could take a page out of Yahoo's successful book.
"The online ad business is doing well these days. There are companies making viable businesses out of providing a full array of services, almost entirely for free. AOL could do worse things than emulate Yahoo's business," Laszlo said.
Record Ad Spending
Indeed, Internet advertising revenues reached a new record of $3.9 billion for the first quarter of 2006, according to the Interactive Advertising Bureau. That figure represents a 38 percent increase over the first quarter 2005 at $2.8 billion and a 6 percent increase over the fourth quarter of 2005 total at $3.6 billion.
"The Internet continues to shape the media landscape as more advertising dollars are going online," said Peter Petrusky, director of Advisory Services for PricewaterhouseCoopers. "It is abundantly clear that marketers are seeing a compelling opportunity to leverage the Internet as a powerful medium that drives both branding and sales results."
Whether or not AOL can turn its business around in this media landscape remains to be seen. AOL was not immediately available for comment.