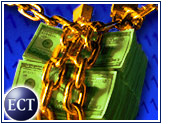 Gartner has confirmed what many high-tech firms already believed, releasing a report that labels 2002 the "most difficult year" on record for the worldwide information technology services industry.
The market for IT services actually shrunk compared with 2001, falling 0.6 percent to US$536 billion, Gartner said. It marked the first year the IT industry saw revenues decline since the Stamford, Connecticut-based firm began tracking the data.
Consulting services, such as project management and development and integration of new systems, were particularly hard-hit as enterprises delayed or abandoned ambitious technology undertakings.
"Users avoided large or technologically challenging projects," said Gartner principal analyst Kathryn Hale.
What's the Rush?
In fact, Yankee Group chief research officer Paul Ritter said enterprises eschewed all but the most essential projects, such as upgrades of existing technology or integration projects designed to get the most out of tech gear bought during the boom.
"There was a sense that people spent the better part of five years accumulating technology, and before they spend any more money, they want what they've already bought to work for them," Ritter told the E-Commerce Times.
Without must-have technological advancements, companies also felt there was no competitive risk associated with staying on the tech-buying sidelines in 2002, he added.
The lone bright spot was outsourcing, which enterprises increasingly view as the best way to "minimize costs in an economy of prolonged uncertainty in which very tight budgets are the norm," said Gartner's Hale.
Big and Blue
Big-name tech companies still control the bulk of the market for IT services, though major acquisitions are helping to shake things up at the top.
Boosted by its acquisition of PricewaterhouseCoopers Consulting, IBM remained the largest IT services firm, commanding 7.5 percent of the market, worth $40 million. Hewlett-Packard also muscled its way into the top five thanks to its purchase of Compaq, which nearly doubled its services revenue to $12.9 billion.
Rounding out the top five were EDS with a 3.9 percent share of the market, Fujitsu with 2.6 percent and Accenture with 2.1 percent.
Exploring for Growth
Only the Asia-Pacific and Japanese markets saw growth last year, but Hale said even that growth appears to have leveled off by year's end, reflecting the fact that all markets are reliant on a strong global economy.
All other markets declined, with Latin America hit hardest in the form of a 7.2 percent revenue plunge. North American services revenue fell 1.1 percent during the year, Gartner reported.