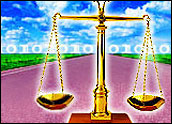 Leading Linux vendor Red Hat has filed suit against The SCO Group, aiming to prove that Red Hat software does not infringe on SCO patents and to stop SCO from making what it called "untrue" statements.
The Raleigh, North Carolina-based firm also announced plans to establish a US$1 million legal defense fund to help smaller firms battle SCO in court. Specifically, the "Open Source Now Fund" will cover the legal expenses of companies that choose to contest SCO's claims that enterprises running Linux also must buy UnixWare licenses to avoid legal action.
Red Hat said it will not extend its legal assistance offer to customers, even though open source users are themselves considered liable for copyright infringement.
The moves put SCO on the receiving end of significant legal action for the first time since it filed a $1 billion breach of contract suit against IBM in March. The amount sought in that suit has since been upped to $3 billion.
Red Hat general counsel Mark Webbink said the primary goal of his company's new lawsuit is to "stop SCO from making unsubstantiated and untrue public statements attacking Red Hat Linux and the integrity of the Open Source software development process."
Preemptive Action
"The collaborative process of Open Source software development which created the Linux operating system has been unjustly questioned and threatened," said Red Hat CEO Matthew Szulik. "Red Hat has a responsibility to ensure the legal rights of users are protected."
Analysts generally viewed the moves as preemptive strikes. Although SCO started at the top by suing IBM for $1 billion, it eventually could have taken aim at Red Hat and other firms that commercially market Linux.
Other industry observers said the move might force SCO to detail more quickly which portions of the Linux operating system actually contain proprietary Unix code. Such disclosure would enable a worldwide army of Linux developers to set about rewriting the Linux code.
Confusion Abounds
Regardless of its potential benefits, though, the Red Hat suit could further muddy the already murky waters surrounding Linux.
Gartner analyst George Weiss told the E-Commerce Times that enterprises are still sifting through the meaning of SCO's demands that Unix licenses be purchased to avoid copyright claims.
"Even though Red Hat wasn't in the crosshairs, it is going to be impacted," Weiss said. Because corporations often choose Linux because of total-cost-of-ownership benefits, the added cost of purchasing a UnixWare license could make Red Hat a less viable alternative. "The IBM case could take a year or more to work out, and Red Hat is trying to make things clearer sooner."
Seven Up
Red Hat's complaint contains seven individual allegations, two aimed at proving that its products do not infringe on SCO's patents and the other five seeking injunctions and remedial action for claims that Red Hat Linux borrows from Unix.
Also on Monday, the results of a survey of Linux developers found the majority are not worried about SCO's claims. Evans Data Corp. said that of 400 developers surveyed, 70 percent said the suit will "probably not" or "absolutely not" affect plans to expand use of Linux in their enterprises.