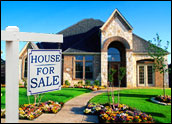 The U.S. Department of Justice has filed an anti-trust lawsuit against the National Association of Realtors (NAR), saying that its Internet property listing policies deprived consumers of choice and possible savings.
In a suit filed in U.S. District Court in Chicago, the DOJ said that even a recently revised policy for online listings from the association "continues to discriminate against innovative brokers, and does not resolve the Department's concerns."
Curbing Competition
The suit claims that NAR policy "prevents consumers from receiving the full benefits of competition and threatens to lock in outmoded business models and discourage discounting."
The NAR responded with a statement defending its newly revised Internet listing policy. At issue is a policy that lets brokers opt-out of having their listings displayed through online search tools that comb the Multiple Listings Service (MLS), a cooperative effort among brokers to centralize listings for searching by consumers and other brokers.
"We believe the new policy is fair, pro-consumer, pro-competitive and accommodates innovation," the statement read. "After months of negotiations, we are at a loss to understand why the Department of Justice would bring a legal action. Many of the changes incorporated in the new policy are in direct response to concerns they have raised over the course of the two year investigation."
The NAR said the new policy was a "win-win" for both buyers and sellers of homes, giving brokers a choice as to how to display listings.
Choice at Issue
The DOJ argues that by letting brokers block online listing in MLS databases, the Realtor association is limiting the value of online home searches. By using the Web, brokers can reduce the amount of time they spend with prospective buyers going through listings, allowing consumers to self-educate on the marketplace by searching listings on their own.
The complaint alleges that even NAR members who worked on the online listings policy worried that the opt-out right would be abused by brokers who worried that wider listings would cut into their commissions.
"The purchase of a home is one of the most significant financial decisions a family can make, and NAR's policy stifles competition to advantage some of its members at the expense of home buyers and sellers across the country," said J. Bruce McDonald, Deputy Assistant Attorney General in the Department's Antitrust Division. "Consumers benefit when real estate brokers are free to compete vigorously by offering innovative services."
Discount real estate brokerage houses are beginning to appear across the country. California-based Zip Realty, for instance, promises to cut commissions up to 25 percent by using the Web extensively.
Booming Market
The dispute arises as the Web unquestionably has become a major force in the home-search and home-buying processes. The NAR itself estimates that approximately 70 percent of all home-buyers go online at some point during their searches.
And Nielsen//NetRatings said traffic to real estate-related Web properties is up some 26 percent this year compared to the same months in 2004. In April of 2005, some 22 million Web users, or nearly 15 percent of all Internet users in the U.S., visited at least one real estate or apartment Web site. Traffic has surged as the real estate market has remained hot — to the point where many are predicting a bubble set to burst much as the dot-com stock balloon.
Realtor.com is the most heavily visited real estate site on the Web, according to the research firm, logging some 6 million unique visitors during April. Some others have been experiencing more growth, including ForSaleByOwner.com, which promises to save sellers and buyers money by cutting out brokers altogether. That site has seen traffic grow more than 140 percent.
"Savvy Internet users are leveraging online resources for real estate purchasing and selling," said Iris Cumberbatch, senior financial services analyst at Nielsen//NetRatings. "Because of the widespread net cast by the Internet, home sellers are using local online classifieds, such as Craigslist, to sell their homes, and home buyers are accessing sites such as Realtor.com to conduct their own property research."
"While most homes are still bought or sold via real estate agencies," she added, "consumers surfing the Web have more direct and better access to real estate property information than they had previously, arming them with information with which they can make more informed buying or selling decisions."