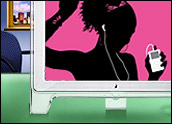 In a bid to win customers from market leader and now fierce rival Apple, RealNetworks said Tuesday it would offer 49-cent music downloads, a price-slashing move that the company admitted would cut into its profits.
Real said it would cut its prices in half, offering single-song downloads for 49 cents and full albums for US$4.99. Real said the promotion was for a limited time but did not say how long it would last. Most songs at Apple's iTunes Music Store sell for 99 cents.
The price war comes as tensions between Real and Apple have reached new heights. Apple recently likened the rival company's "tactics and ethics" to those of "hackers" after Real debuted a program, dubbed Harmony, that makes all downloaded songs playable on all devices, including Apple's iPod.
Getting the Word Out
The price cut came as Real debuted its latest version of RealPlayer, which includes the Harmony technology. Real is promoting the sale and the upgrade under the theme "Freedom of Choice."
RealNetworks CEO Rob Glaser said a TV, radio, print and online ad campaign would be launched starting today as well. In a statement, he called the more flexible approach of being able to move between players and platforms "the right thing for consumers and a crucial step in bringing digital delivery of music into the mainstream."
He argued that such portability and compatibility brings digital music more in line with other entertainment formats, such as CDs and DVDs, which play on devices regardless of who makes them.
Jupiter Research analyst Michael Gartenberg told the E-Commerce Times that RealNetworks faces an uphill battle if it hopes to wrest iTunes customers away from Apple.
"I expect it will be successful in driving users to their store," Gartenberg said. "But the real question is whether they can sustain it over the longer term and leverage those song buyers into subscribers or repeat customers."
While the back-and-forth between Real and Apple is interesting, it might not be the most important battle in digital music. "It's still very early," he added, noting that Microsoft's entry into the space will almost certainly affect the market dynamics.
Apple in the Lead
One certainty is that Apple has amassed an impressive early lead in the digital music download space, largely on the strength of the popularity of the iPod, which is being backed up with the arrival of the iPod mini at a lower entry price point.
Apple was not immediately available for comment on Real's latest move. But Apple is likely to defend its turf in some way. In the past, Apple has enticed new users with free music download periods and other gimmicks, which some analysts said it could repeat in response. Others are still expecting Apple to come up with a technological solution that essentially blocks the use of Harmony on iPod, forcing users to return to the iTunes store for all of their downloads.
Forrester Research analyst Josh Bernoff said the RealPlayer music store could ride a wave of publicity and discounts into second place in the fractured market behind Apple but ahead of current number-two Napster. But for Apple the outcome might be a changed image.
"Most consumers don't realize that by choosing an iPod and iTunes, they and their music are locked into Apple technology," Bernoff told the E-Commerce Times. "Now, thanks to Real, they will." That will "tarnish Apple's happy, shiny image" and may give some consumers reason to pause before taking the iPod plunge.
Real Financial Risk
Another sure thing is that RealNetworks is taking a financial risk with the campaign. The company acknowledged that the effort, including the song discounts and ad campaign, would shave at least a penny off its third quarter earnings.
Bernoff said the discounts alone could cost Real $2 million depending on how long it runs the promotion, and it can expect to have to race continually to stay ahead of defensive counter-moves by Apple to protect its iPod-iTunes turf. "They may acquire some customers, but it will come at a substantial cost," he added.
Shares of RealNetworks were down about 3 percent in morning trading Tuesday, falling to 5.08.