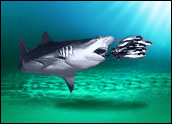 Qualcomm said Monday it had acquired Airgo Networks, a leading maker of next-generation WiFi tools, and purchased most of the Bluetooth chip interests of RF Micro Devices.
Qualcomm did not disclose the purchase price it paid for privately held Airgo, whose technology is being built into many notebook computers, home and office-based routers and other technology. The company said it paid US$39 million to RF Micro Devices for the rights to its portfolio of technology in the Bluetooth short-distance wireless arena.
San Diego-based Qualcomm said Airgo's current product lines would be supported as it moved to integrate the technology into its own chipsets for mobile phones and laptop PCs. With the RF Micro technology on board, Qualcomm may be able to boost its share of the wireless headset market and offer products that tie together multiple mobile devices.
"With these two acquisitions, we will continue to extend our leadership in mobile broadband and will be offering our partners comprehensive chipsets with seamlessly integrated features," said Sanjay K. Jha, president of Qualcomm's CDMA Technologies division.
Investors cheered the news, apparently agreeing that the acquistions give Qualcomm a shot at becoming more of a player in the rapidly changing wireless world. The company's shares were up more than 3 percent in afternoon trading Monday to $37.48.
In and Out
Palo Alto, Calif.-based Airgo has gained a strong reputation in the wireless sector for being among the first to produce WiFi chipsets that worked on MIMO, or multiple input, multiple output, technology. MIMO, which is at heart of the next-generation WiFi standard of 802.11n, uses multiple antenna in a notebook PC, for instance, to increase the speed of wireless links.
The 802.11.n standard is considered a future standard, and Airgo was one of the first vendors to have chipsets approved for use with it. Qualcomm's own chips had yet to be certified to work with the standard.
The rate at which Bluetooth and WiFi are being built into wireless handsets is "poised to grow past the critical tipping point" making the purchases "very timely," Strategy Analytics analyst Chris Ambrosio said.
By bringing the expertise of the two firms in-house, Qualcomm will be able to offer manufacturers "access to more integrated solutions — chipsets that deliver expanded, seamless connectivity with enhanced performance and space savings."
For instance, Qualcomm said it would use the Airgo technology to bolster its Snapdragon platform, which is meant to outfit devices with a range of high-speed mobile connectivity options, including both WiFi and 3G and EV-DO mobile phone technology that Qualcomm has developed based on its CDMA, or code division multiple access, technology.
Qualcomm said the deals would shave its earnings slightly for the coming year before turning positive in 2008. Both deals are on track to close by the end of the year.
Connected All the Time
The moves underscore the push to bring broadband-speed wireless connectivity options to users wherever they go. Mobile carriers have focused on providing EV-DO coverage, which offers WiFi speeds but with much greater range.
Still unclear is the impact that Wimax, which has the potential to expand the range of WiFi hotspots, will have on the connectivity picture.
For Qualcomm, however, the chance to build chips that can offer more options for finding fast connections — which enable users to download and send e-mails or view video on smartphones or other devices, as well as on laptop PCs — may help it fend off incursions from other chipmakers, including Intel, who have eyed the mobile market for future growth.
The wider array of broadband connectivity options may help Qualcomm gain WiFi market share, but it will have a venerable competitor in the form of Intel's Centrino brand, ABI Research analyst Phillip Solis noted.
"Hardware makers want to offer users as many options for connecting as possible and this is Qualcomm's way of trying to provide that flexibility," he added.
The buys also fit with Qualcomm's overall strategy of licensing bundles of technology to handset makers and reaping long-term royalties, Stifel Nicolaus analyst Cody Acree said.