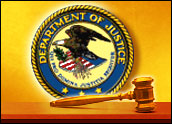 Cell phone technology maker Qualcomm has agreed to pay a US$1.8 million fine to settle allegations that it began controlling business decisions at merger partner Flarion Technologies before antitrust regulators cleared the purchase.
Qualcomm, best known for developing the Code Division Multiple Access (CDMA) standard for wireless phones, said the settlement of so-called "gun-jumping" allegations does not include any admission of wrongdoing.
The Department of Justice's antitrust unit cleared the purchase in January.
DoJ officials have expressed concerns about moves made by the companies before that approval was handed down, however. At issue was a provision in the merger agreement that required Flarion to obtain Qualcomm's permission to enter into certain types of intellectual property licenses and other agreements, and to make certain types of customer proposals.
The DOJ asserts that provision gave Qualcomm "an inappropriate level of control over Flarion's business" prior to antitrust clearance.
Moving On
Even though Qualcomm disagreed with the DoJ's position, the company said a quick resolution was best for all involved.
"With the successful integration of Flarion well under way, we decided to put this matter behind us to avoid diverting or distracting the Qualcomm-Flarion team from the important tasks of integrating the best of both companies' technologies and refining our joint road map," said Louis Lupin, senior vice president and general counsel for San Diego-based Qualcomm.
Qualcomm's deal to acquire Flarion — which develops orthogonal frequency division multiplex access (OFDMA) technology and is credited with inventing FLASH-OFDM technology for mobile broadband Internet protocol services — is worth as much as US$800 million in cash and stock.
At the time it was announced, Qualcomm appeared eager to obtain technological insurance for its CDMA technology, which the company says will translate well to the broadband wireless world.
Irregular Regulation?
The DOJ said the action was a reminder that mergers must wait for the green light from regulators.
"Merging parties must continue to operate independently until the end of the premerger waiting period," said Thomas O. Barnett, assistant attorney general of the antitrust division. Keeping businesses separate is necessary to ensure that combinations do not have to be taken apart later in cases where antitrust issues are present, he added.
The fact that Qualcomm was targeted for jumping the gun has generated some head scratching; provisions like the one in the Flarion deal are not uncommon in the telecommunications and technology spaces.
Such provisions may protect buyers by limiting how much of its technology the company being acquired can license before the deal is consummated. For instance, a buyer would want to ensure that a target didn't license its technology too broadly, thereby reducing the value of the acquisition after the price was set.
At least in theory, a firm could even license technology to a buyer's rival without the protections, noted American Technology Research analyst Albert Lin. He said another reason for gun-jumping is the need for speed when it comes to integrations, with many companies eager to use the antitrust waiting period to begin work on the merger transition.
"A close examination of deals in the telecom space would probably show that a lot of deals had some language that could be considered gun jumping," he added. "Everyone is racing the clock to avoid getting bogged down by integration."