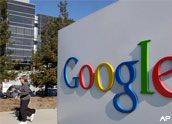 An ambitious project launched by Google to scan millions of pages of widely read books to create a digital library open to all is drawing flack from the publishing industry and raising anew questions about how the Internet interacts with traditional copyright laws.
The Association of American Publishers (AAP) has reportedly written to Google asking the company to voluntarily agree to a six-month moratorium on efforts to scan, digitize and post books from major libraries around the world, including Harvard University and the New York Public Library.
That call follows earlier requests from the American Association of University Presses and individual publishers such as Random House, Houghton-Mifflin and John Wiley & Sons, that Google reconsider aspects of the plan.
10-Year Project
Google has agreed to meet with representatives of the publishing industry to hear their concerns, but is apparently moving forward with the effort in the meantime. The entirety of Google Library, as the project is known, was expected to take as long as 10 years to complete.
The Google Print project was seen as a major public relations coup for Google when first launched because it seemed to underscore the company's ambition to make the Internet more useful by brining as much information as possible onto the Web.
However, it has since run into some considerable opposition. The most recent flare-ups come after a self-proclaimed Google watchdog group posted details of the search giant's contract with the University of Michigan library.
The part of that contract that most caught publishers' eyes was a provision for Google to make two digital copies of all materials. That has apparently sparked concern that in addition to the free, library-like offering, Google might be planning commercial uses of the books, some of which are protected still by copyright.
Google has insisted, and says that the contract clearly spells out, that copyrighted works will be protected and available only in indexed, searchable form. That is, excerpts will turn up in search results and users will then be able to find where to buy or borrow a copy.
Copyright Laws
Many of the books involved in the digitization push are in the public domain, that is their copyrights have already expired, making them available for copying and distributing in various forms. However, lawyers and the publishing industry say that the act of making digital copies of books that still have copyright protection is a violation of the law and, for that reason, Google might want to slow down, or focus its first efforts on public-domain works.
Lawyers say the project will likely shed new light on the idea of "fair use" of copyrighted materials, which allows for excerpts of those works to be quoted, such as in a book review or scholarly work.
Publishers have long had an uneasy relationship with the Web. Supposed threats from e-books and other digitized formats have not materialized, and the Internet has become a favorite venue for book buying for many consumers.
Meanwhile, analysts say Google is likely to tread lightly with the publishing industry to avoid a lengthy, costly and politically messy battle. Publishers are a key constituency of Google's, representing potential advertisers and potential merchants for its e-commerce efforts, such as its Froogle comparison-shopping site. Still, bringing book pages online is seen as critical to Google's efforts to boost the amount of real estate available for placing ads online.
"Google Print got them a huge amount of positive publicity and really cemented their reputation as the most ambitious of the search companies," Forrester Research analyst Charlene Li told the E-Commerce Times.
If Google does back down or strike a compromise, it will likely find a way to do so that doesn't stall the overall library project, such as focusing first on works not subject to copyright protection.
Privacy Issues?
Google Print and Google Library has already been assailed by librarians in Europe, who fear the virtual library will be heavily biased toward works from the English language and under-represent great works in other languages.
In fact, many European librarians want to launch a competing project, presumably to give each nation more direct say in which tomes are memorialized in digital form.
Daniel Brandt, who operates the GoogleWatch.org Weblog, said the digital library effort also raises privacy questions, since Google will have the ability to track users' searches of library content. Such material could then be subject to subpoena by law enforcement.
Brandt predicts that plans to digitize the entire seven-million-book collection in the University of Michigan's stacks — Brandt secured a copy of Google's contract with that institution after filing a Freedom of Information Act request — "will not stand" because it's not clear the university can even make copyrighted books from its stacks available to the search firm.
"There are copyright issues that Google must deal with once they own the digital files," Brandt said. "But at this particular moment, this aspect of copyright law is not the potential show-stopper. The immediate question is, does the University of Michigan have the right to turn over copyrighted material to Google for the express purpose of digitization by Google? That's the show-stopper."