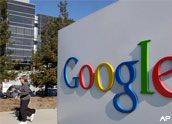 In a move already sending shockwaves through the e-commerce industry even though it is still unconfirmed, Google is said to be considering an online payment service that would go head-to-head with eBay's PayPal.
EBay shares were down nearly 4 percent on published reports that Google was preparing a service, tentatively called Google Wallet, meant to rival the dominant PayPal as a way of enabling electronic payments, especially smaller payments and those between individuals. About one-fifth of eBay's first-quarter revenue of just over US$1 billion came from PayPal fees.
The Wall Street Journal and the New York Times have both published stories saying that the Google service could be available by the end of this year, citing conversations with an unnamed retail company CEO who apparently had been approached by Google about the service.
Larger Puzzle
Attempts to reach a Google representative for comment were not successful.
The move would almost certainly strain relationships between Google and eBay, which is one of Google's largest online customers for its paid search and other advertising services. Still, it might not be a slam-dunk that Google can succeed in asking consumers to trust it with their personal and financial information.
It would also represent yet another departure for Google from its core business of search. However, that is no longer a surprise to analysts, who say the company's strong brand name has come to be associated with many different aspects of the Web, and investors, who see the moves as laying the foundation for a much broader revenue stream in the future.
Not that there's any urgency for Google to diversify. In the first quarter of 2005, Google had revenue of US$1.3 billion, nearly double the year-ago period, while net income was up 6 percent. That performance and overall optimism about the online advertising world has helped drive Google shares to all-time highs in recent weeks.
The move would fit into a larger puzzle of e-commerce consolidation and jockeying for position among the dominant companies, Forrester Research analyst Carrie Johnson told the E-Commerce Times.
EBay displayed its intentions to beef up its core auction business and possibly extend its reach into the search realm when it bought Shopping.com recently in a deal worth $620 million.
"More consolidation is coming as portals and retailers start to beef up their buying and shopping features," Johnson said. She sees the creation of "massive shopping destinations" that will have ramifications for retailers of all stripes as well as the search sites, portals and others who refer shoppers to them.
Numerous Competitive Advantages
That could easily extend to the payment process. While credit cards still dominate the e-commerce landscape for purchases from merchants, they are not viable for person-to-person, or P2P sales.
Since the e-commerce trend emerged in the mid-1990s, dozens of startups and some larger companies have taken aim at the online payment world. Microsoft attempted to makes its Passport service an online "wallet" from which consumers could pay at various sites. Startups such as Beenz.com and Flooz attempted to make it easier to complete online purchases, but were shaken out during the dot-com bust.
The rise of small e-commerce purchases — notably downloadable music, but likely spreading to areas such as streaming video and other fields in the near future — has renewed interest in online payment options and brought about new startups, such as Peppercorn.com.
Analysts say Google brings numerous advantages over others who have targeted the online payment world. First, it has a strong brand name and a reputation for technological excellence. Also, because of its advertising business, it enjoys working relationships with many major online retailers and others.
However, Kelsey Group Managing Editor Greg Sterling said trust will likely be an issue for Google, which has already had some missteps in that area. "Google has struggled a bit in the trust department lately, with initiatives such as My Search History, Accelerator, Autolink and others raising privacy concerns," he said. "Because of its enormous success, some people are starting to regard Google with the skepticism that Microsoft routinely encounters."
Diversifying Before Demanded
Those concerns could be amplified if, as some reports suggest, Google subsidizes the service and makes it free to consumers — those who make sales pick up PayPal fees — by using it as a data-gathering tool to enhance its advertising distribution network.
Sterling also said that Google is moving to diversify before investors and analysts begin to demand it, which will happen eventually. "The market will soon demand this to continue to pay such a premium for Google shares," he added.
Google has not been afraid to take on some of the largest Internet companies in the past. A move to make its search site more of a portal-style Web destination is a direct challenge to Yahoo. And its Gmail Web mail service targets Yahoo as well as MSN's market-leading Hotmail.
Though PayPal has long ruled the online payment world, analysts believe there is room for alternatives, particularly since the vast majority of PayPal's revenue derives from eBay auction sales. In fact, eBay's attempts to propagate PayPal into other online areas have not paid off significantly to date.
In a research note, Piper Jaffray analyst Safa Rashtchy said even if it does not catch on, the fact that Google is launching such as service could drag down eBay shares.
"A Google payment system may not compete directly with PayPal, but it could limit PayPal's expansion beyond eBay," Rashtchy said.