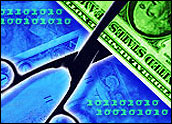 Jason Papier started his own personal finance podcast before Apple's iTunes Music Store began peddling podcasts. Today, Papier's show, Pro Money Talk, is the number one rated personal finance podcast on iTunes.
Pro Money Talk targets successful people with knowledge, tools and ideas designed to give them an edge. The podcast addresses issues from asset class investing to zero coupon bonds and from taxes to retirement planning. The experience has been worthwhile for Papier.
"If your goal is to make money podcasting it's going to be a tough road to hoe. If your goal is to create a community of people who share a similar, narrow interest and if that group does not currently have audio exposure, then you'll likely be successful," Papier told the E-Commerce Times.
Papier's goal was to help listeners lives better by being more financially intelligent. He spends five hours a week preparing the show and invested US$500 in microphones and mixers. To date Pro Money Talk has seen more than 1 million impressions and has listeners in over 65 countries. The fruit of Papier's labors: business development opportunities with strategic partners.
Podcasting: Who's Tuning In?
Pro Money Talk has a sizeable audience — and one that is likely to grow. Forrester Research reports that only 1 percent of online households currently download podcasts, and only 25 percent express interest in them. Most are interested in time-shifting existing radio and Internet radio channels.
Contrary research from the Pew Internet & American Life Project estimated podcast audiences this year would hit 6 million. EMarketer predicted a whopping 10 million listeners by the end of 2006. Even Forrester predicts the number of listeners will increase nearly 18-fold to hit 12.3 million American households by 2010.
Podcasts cover a wide variety of subjects — there are automotive podcasts, music podcasts, podcasts about dogs and cats. You name it, you can probably find it. Podcasting News' Top 10 Podcast list is diverse. Science@NASA was the top podcast for the third straight month in April. Digital Lifestyle, IT Conversations and Adam Curry's Daily Source Code have also made the list.
Podcasting: Worth the Effort?
Papier admitted he's not making much cash off his personal finance podcast. Is it really worth the effort, then? If you need to communicate a message to people, or you have consumers with whom you would like to have a more engaged relationship, then yes, podcasting is worth the effort, said Charles Chapman, manager of digital marketing at Babson College.
"The trick though is knowing what a podcast is and isn't. If it's just someone reading a press release or speaking the party line from a script then it's not valuable," Chapman told the E-Commerce Times. "Listeners want to hear real voices, real conversations. We live in a world now where overly edited news is not what we want. We want honest and instant communications and podcasting allows this."
Podcasting: An Advertising Dream
Podcasting is allowing a new medium for advertisers, too. Podcast advertising reached a total of $3.1 million in 2005, according to PQ Media's "Blog, Podcast and RSS Advertising Outlook." PQ Media estimates that podcast advertising will be a larger market than blog advertising by 2010. At that time, blog advertising will make up only 39.7 percent, or $300.4 million, of the overall market. Podcasting will reach $327 million.
Sponsorship can be very tricky for podcasters as podcasts tend to target a specific audience. You can't expect M-Audio or Belkin to sponsor a podcast about curling or wine tasting, explained Tee Morris, co-author of "Podcasting For Dummies." However, she added, the advantage is your target audience is there. Not a few, but every listener is your target audience, and they're a captive audience at that.
"Many of the larger corporations — IBM, ESPN, Disney — use podcasting as an advertising vehicle, a cost-effective way of reaching out to new audiences by giving a look behind the scenes or a product preview of upcoming releases," Morris told the E-Commerce Times. "The commercial sector is beginning to take notice."
Prepared for Takeoff
Podcast advertising and sponsorship is still in its early stages. However, at the moment, sponsorship is proving to be the more effective model, according to Kristin Ewing, a marketing and PR manager for Porter Novelli, an agency that works with clients like Procter & Gamble (NYSE: PG), Hewlett-Packard, Yahoo and McDonald's. She pointed to recent and successful sponsorship deals made by Dixie/Georgia-Pacific, Disney and Uncle Ben's.
"Ads within podcasts sound too much like FM radio, which is what podcast listeners are trying to avoid. Advertisers need to research and embrace the essence of podcasting today — it's not a media buy. It's not an ad insertion. And it's not a commercial bought solely on demos. This medium carries an audience with a degree of loyalty equaled only by their own fickleness. If the marketing is off-target, they'll let you know it — and vocally," Ewing told the E-Commerce Times.
As podcasting grows, Ewing predicted the need for monetization would grow in kind to keep it self-sustaining. That will be evident as more and more ads appear in popular podcasts, and the sector of audience who is already used to ads being a part of their entertainment content will mind less and less, she said.
"The reality is, podcasting can't survive on its good intentions and ground-breaking user-generated content. There needs to be a financial component in place to foster its growth," Ewing concluded. "Happily, that ad model is getting off the ground in a very strategic way."