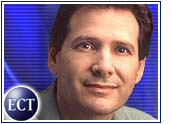 Priceline.com, the name-your-own price Internet service, said Wednesday its third quarter revenues will fall short of Wall Street forecasts.
Although analysts were predicting revenues of $360 million to $380 million (US$), the company said it expects revenues of $340 million to $345 million. Priceline blames the shortfall on slumping sales of airline tickets, which the e-tailer said would be down $20 to $25 million from the second quarter.
"Based on historical experience, we expected September to be the strongest sales month in the quarter," said Priceline president and CEO Daniel H. Schulman. "It now appears that September sales will be weaker than we experienced in July and August."
Schulman said a number of factors contributed to the decline in sales, including an additional fuel surcharge imposed earlier this month and direct promotional fares offered by a number of airlines.
Stock Plummet
Although Priceline maintains that the company is in an adoption curve, with consumers still learning how to use its technology and understand its business model, investors and Wall Street analysts are not convinced. Wednesday, the company's share price crashed to $10 3/4, a 42 percent drop from Tuesday. Earlier Wednesday, shares reached a 52-week low of $10 1/16.
"We're downgrading Priceline, recognizing that the stock is likely at a bottom, because we don't think the stock will reaccelerate until the environment surrounding the air business becomes more favorable. We're not downgrading the stock because they missed the quarter. We're downgrading because of why they missed the quarter," analyst Anthony Noto wrote in a research note.
Rapid Ascent Sparks Complaints
Although Priceline has excelled at liquidating products, its rapid growth has left many consumers complaining about late-night flights, numerous stop-overs, hidden charges, and poor customer service.
A spate of negative publicity has given the company a particularly bumpy ride. For example, it was recently reported that William Shatner, Priceline's high-profile spokesperson, does not use the firm's services because he always flies first class and has no use for the name-your-own price system.
Additionally, as a result of the numerous, allegedly unresolved customer complaints, the Better Business Bureau in Connecticut revoked Priceline's membership two weeks ago.
It has also been reported that of more than a third of the complaints lodged against travel agents with the U.S. Department of Transportation last year were against Priceline, despite the fact that firm only booked 1 percent of all flight traffic.
Heightened Competition
Recent studies indicate that the online travel industry has significantly altered the way leisure travelers book tickets and plan vacations. Among the companies that are working to chip away at Priceline's market share in the changing environment are Hotwire, a discount broker site backed by six major airlines, and Savvio.com.
Both companies are hoping to attract travelers frustrated by Priceline's practices.
Online travel booking is one of the fastest growing segments of the travel industry. According to Forrester Research, online travel sales will quadruple from last year's numbers to $29 billion in 2003.
Another study by PhoCus Wright found that 40 percent of online consumers said they have bought airline tickets over the Web. By comparison, 44 percent have purchased computers or software and 42 percent have purchased books online.