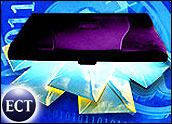 EBay was kind enough to remind me this week that if I ever need to buy a boat, that's the place. Or a camper. Or an airplane. That's it, an airplane. I knew there was something missing from my driveway. Good thing eBay jogged my memory. I would have had a hard time trying to fly without one.
Maybe it's just me, but if I need to buy something — especially something as big and expensive as a boat or plane — I don't need to be reminded or cajoled or coerced. So why is my inbox flooded with reminders from the likes of eBay and Amazon
Friendly Reminder
I know you have stuff to sell me, guys. And if I need to buy something, I'll let you know by clicking over to your site to see whether you have what I want or need at a price I can afford.
The occasional marketing announcement is fine. I almost appreciate, in fact, Amazon's reminder that Mother's Day is coming up. That's almost useful information.
And the truth is that despite the frustration, I've yet to opt out or un-register or get a new e-mail address, whatever it would take to avoid all future communication. But these pitches are not making me buy anything, either. And they just keep coming, drip by drip, like slow, painful water torture.
Repeat Performance
Or, in the case of Yahoo, an occasional flood. The portal recently decided to inform me about every single feature on its site. At the rate it rolls out new offerings, such as its new and mindless ask-for-and-pay-for-advice feature, I'll be 75 before it finishes telling me about all it has to offer.
At least there's a remote chance I'll use Yahoo's stock service. There's a chance I'll get hooked. But what are the odds that anyone will be compelled to visit eBay Motors and shop for an airplane?
What's scary is that a team of marketing consultants somewhere has that answer at hand. Whatever the number, eBay obviously decided it was worth it. After all, you only have to sell a few airplanes to make serious money — last I checked, they cost a bit more than Pez dispensers.
But is that e-mail really going to trigger an airplane/motor boat/camper windfall for eBay? No. Sure, it plants a seed in the consumer's mind, so that when they do make it big, they'll know just where to go for their first turbo-prop plane.
One in a Million
What about the rest of us? We get an e-mail we don't need and can't use; quite honestly, that wastes our time. If we've ever shopped on eBay — and because we're getting this message, by definition we have — we know about eBay.
We know about the experience of buying or selling or even just browsing or bidding at the site. If our experience was good enough, we'll go back when we have something else to buy or sell or more time to browse and bid.
EBay knows its experience rocks. It knows its users aren't going to leave its greedy clutches en masse anytime soon. So maybe its executives figure there's no risk in dashing off a few million e-mails about boats and campers and airplanes.
That's true from a big-picture perspective. Sharpen the focus a bit, though, zoom in, and it's clear that the company's relationship with each individual shopper is much more fragile than the chokehold it has on the marketplace as a whole.
The same goes for Amazon, which let me know about lower book prices in an e-mail that would have made an infomercial hawker proud, and Yahoo, which recently seemed unable to resist sending e-mail.
One by Each
It's a fine line, and a blurry one at that. Other people might love receiving e-mail about boats and airplanes. For me, it's about trust. I trust these companies with my business.
They should be able to trust that their service, their products and their shopping experience are good enough, memorable enough, to make it completely unnecessary to remind me about these things. If they aren't, that's a problem they should be working to fix.
What do you think? Let's talk about it.
---
Note:
The opinions expressed by our columnists are their own and do not necessarily reflect the views of the E-Commerce Times or its management.
---