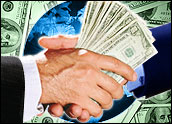 Philips Electronics said Thursday it had reached an agreement to sell a majority stake in its semiconductor business to a group of private equity firms for US$4.4 billion.
Philips said the sale would enable it to focus on its core business of producing consumer and industrial electronics devices.
Kohlberg Kravis Roberts (KKR), Silver Lake Partners and AlpInvest Partners will pay $4.4 billion in cash for an 80.1 percent stake in the chip business, with Philips retaining the remaining 19.9 percent stake. The deal values the chip line at around $10.6 billion.
Expected Move
"As a stand-alone company, the semiconductors business will have every opportunity to realize its full potential," Philips Electronics CEO Gerard Kleisterlee said. "As Philips, we are completing our shift away from running cyclical activities, and can fully focus on building an even stronger company."
The sale was not a surprise, with Philips moving several months ago to put the line on the block and at least two other private equity groups said to have bid on the business.
The move will enable Philips to divest itself of an often volatile business line while raising cash it can plow back into its main business. The semiconductor industry is know for being highly cyclical, while Philips' other business lines are far more stable and predictable.
It also underscores the distaste many large companies have for the sometimes brutally competitive chip business, which requires millions be spent annually to develop new products and to build out new plants, or fabs, which can produce increasingly powerful but ever-smaller chips.
Buying and Selling
Philips had 2005 sales of more than $38 billion, most of it coming from sales of its own brands of televisions, DVD players, household appliances and medical equipment.
The chip unit, known now as Philips Semiconductors, makes chips that find their way into some of Philips' products, as well as those made by others, with end uses including mobile phone handsets, game consoles, automobiles and other consumer devices. The chip business is currently the third largest in terms of sales volume in Europe.
The firms that bought the business are likely to spend some time restructuring it, seeking ways to cut costs and maximize sales, and then put it on the block again, either through a direct sale or by taking the new company public.
KKR and Silver Lake have taken a similar approach in the past, last year buying Agilent Technologies' chip division for $2.7 billion and then spinning off one part of that business — the part that makes printer chips — in a sale to Marvell Technologies.
Other private equity firms see upside in chip makers as well, with Bain Capital paying $3 billion to acquire Texas Instruments' sensor chip business earlier this year.
Growth Prospects
The sale and the healthy price tag suggest that the firms see growth potential that can be unlocked by moving the chip unit out from under the rest of Philips, where it is a fraction of the overall business but demands constant attention and investment.
The chip business is "well positioned to pursue and achieve significant expansion," said Egon Durban, a managing director of Silver Lake Partners.
Philips sought to sell off the line at a time when there is significant growth in the chip space, being driven largely by the boom in consumer electronics and mobile devices that rely on semiconductors, according to Gartner analyst Alan Brown.
The long-range growth, however, may well come after a number of cycles in sales, with chip makers often forced to cut prices to move inventory in slower times. That can cut into profits, which Philips saw hurting its overall bottom line, he noted.
"There is strong growth in the chip market today and it's expected to continue for a while," Brown said. The long-range prospects in particular remain strong, but capturing those new sales will require heavy investments that Philips was shying away from making. "A standalone company is much better positioned to be competitive."