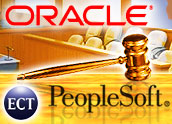 Reversing a stance its board of directors held fast for 18 months, PeopleSoft today agreed to be acquired by Oracle for US$10.3 billion, clearing the way for a merger that sparked one of the longest and most bitter business battles in the history of the tech industry.
The merger promises to dramatically alter the enterprise software market.
The change of heart from PeopleSoft's board, which had dug in its heels as soon as Oracle unveiled its first takeover bid in June of 2003, came after Oracle raised its offer a fifth time to $26.50 per share, or $10.3 billion. The original offer was worth $16 per share.
"This has been a long, emotional struggle," PeopleSoft board of directors member George "Skip" Battle said.
Though Oracle had convinced thousands of shareholders to sell it their stock, Oracle needed the PeopleSoft directors to agree to the deal to make it a reality. Their blessing clears the way for a merger that was initially blocked by the U.S. Justice Department and is still viewed warily by some inside and outside the business applications industry.
Investors were strongly behind the deal. In early trading, PeopleSoft shares rose 10 percent to $26.42 while Oracle stock was up 7 percent to $14.19.
Standard & Poor's analyst Jonathan Rudy said the new offer appeared to be "fair" and something of a win for shareholders of both companies.
The new price values PeopleSoft at 3.7 times current sales, and 34 times 2005 earnings estimates. Rudy is recommending that investors hold PeopleSoft shares for the time being. He also put a "buy" rating on Oracle, saying its current valuations remain relatively low.
The merger instantly solidifies Oracle's position in the enterprise applications business, making it the largest supplier in North America and the second-largest in the world behind Germany-based SAP.
"This merger gives Oracle even more scale and momentum," Oracle CEO Larry Ellison said. "This merger is going to make our applications business bigger and stronger."
Long Journey
The announcement came as Oracle announced its quarterly results, which showed gains in application sales, much of them coming at the expense of PeopleSoft.
Analysts have been watching Oracle and PeopleSoft sales closely and over the past year have reported signs that the possible merger — and the chance that PeopleSoft's applications would eventually be phased out — had started to cost PeopleSoft some sales. One analyst said PeopleSoft might have lost as much as $1 billion worth of ongoing sales because of the disruption.
However, PeopleSoft said it was simply waiting for a deal that was good for its shareholders and credited its workforce with staying focused through a year and a half of distractions that included a slew of lawsuits from both Oracle and PeopleSoft and the firing of longtime PeopleSoft — and former Oracle — executive Craig Conway.
"We believe this revised offer provides good value for PeopleSoft stockholders and represents a substantial increase in value from October," Battle said. "Our ability to deliver this shareholder value would not have been possible without the relentless efforts of our employees."
Oracle offered no immediate insight on how it would merge the companies, but at last week's OpenWorld conference, executives said they would try to retain as many engineers from both PeopleSoft and J.D. Edwards, which PeopleSoft bought earlier this year, in order to continue to develop better software.
Needed Addition
For Oracle, the move gives it instant credibility in the enterprise application market into which it had attempted, with limited success at first, to expand as a way to reduce reliance on its relatively mature database business, one that is also more exposed to competition from open-source options.
The combined company will have about 22,750 customers and more than 53,000 employees and will be second worldwide in terms of application sales.
Forrester Research analyst Paul Hammerman said that despite the turmoil it caused, the PeopleSoft board had solid reasons for taking the stance it did — that previous offers did not value the company highly enough.
"The fact that Oracle continued to come after them with higher offers seemed to suggest they were right," he added.
PeopleSoft's value to Oracle might be greater as well because it offers two new selling opportunities: It can attempt to convince PeopleSoft customer that don't run Oracle database software that moving to its products will create a more seamless environment; and it can leverage its own installed database customers to sell improved enterprise applications from PeopleSoft's broad suite of products.
What About the Customers?
Though it marks the end of a business odyssey, the agreement might only be another chapter in a long journey for customers, particularly those of PeopleSoft. Oracle now says it will develop next-generation versions of PeopleSoft and J.D. Edwards products that will be available within two years. It has also said it would work on integration that would likely result in a suite of Oracle-branded products that contain features of the two other companies' software.
AMR Research analyst Jim Shepherd said Oracle will likely reach out to PeopleSoft customers to "reassure them and establish positive relationships."
Oracle executives have been "adamant that they would provide long-term support and substantial enhancements to the PeopleSoft products. They also publicly stated that they had no intention of selling off the portion of PeopleSoft that was formerly J.D. Edwards," Shepherd noted.
"Oracle will need to work hard to heal wounds and perhaps improve its public image," he added. "Companies that are angry at Oracle, and in many cases once selected PeopleSoft or J.D. Edwards over Oracle, must be convinced that Oracle will be a good partner that will protect and enhance their software investment."
Shepherd said it's likely that over time, most PeopleSoft customers will accept Oracle as their application vendor. "While there are often emotional and vocal reactions to acquisitions, it is very difficult to justify replacing your business system because you don't like the new owner," he explained.
"Oracle is a large and experienced software vendor with lots of experience in supporting customers and developing applications. If Oracle delivers on its maintenance and enhancement promises, we expect it to retain most of the PeopleSoft customers," Shepherd added.
Other analysts say the merger could be beneficial for all customers by creating a viable competitor to SAP, one that could force that privately held and notoriously profitable firm to lower its prices in some markets.
The deal came as a trial was about to begin that could have resulted in PeopleSoft being forced to acquiesce to the latest offer from Oracle. If that had failed, the next showdown was slated for March, when PeopleSoft held its annual shareholder meeting. There, Oracle was to have several candidates up for election to the PeopleSoft board.
---

Clickhere for expanded coverage on the Oracle-PeopleSoft deal…
---