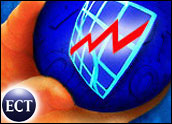 Sales of personal computers posted strong growth in 2005, while Dell held onto the crown and captured more market share and the U.S. gave up its title as the largest single PC market, according to reports from two research firms.
Gartner said sales grew 15.3 percent in 2005, while IDC said growth for the year was 16.4 percent, edging out that firm's own late-year projections. Each firm uses slightly different methodology to make its count.
Mobile Makes Its Mark
Researchers agreed that growth was driven largely by sales of mobile computers and by growth in markets outside the United States and North America.
IDC said mobile computers are what drove three straight quarters of 17 percent sales growth to help PC makers ship some 208.6 million machines during 2005.
"The market continues a fundamental shift toward mobile computing that is contributing significantly to top-line growth," said David Daoud, research manager, Personal Computing and PC Tracker Programs at IDC.
Daoud said the desktop market should not be counted out, however, with several developments on the horizon that could boost sales in that niche in 2006.
"There were ample opportunities in the fourth quarter for vendors who offered desktops as home digital appliances, a trend we anticipate could reignite the desktop market in 2006 and 2007 with the launch of Microsoft Vista, Intel's Viiv, and PC vendors' expected endorsement of these initiatives," he added.
Once and Future King
Among PC makers, Gartner singled out Dell for its impressive expansion, growing sales by 18.6 percent last year, though it said the growth began to slow by year's end. Hewlett-Packard also grew its sales, particularly in overseas markets.
Dell saw a modest gain in market share, from 16.4 percent in 2004 to 16.8 percent in 2005; number two HP's market share slipped slightly to 14.5 percent from 14.6 a year ago.
Gaining were third-ranked Lenovo — now the majority owners of IBM's PC line — with 6.9 percent market share, up from 6.8 the previous year, and Acer, which grew market share from 3.4 percent to 4.6 percent.
International sales will continue to grow in importance, Gartner senior analyst Ranjit Atwal said, with the fourth quarter marking the first time that the Europe Middle East and Africa (EMEA) region surpassed North America as the largest market for PC sales.
In the U.S., a rejuvenated Gateway was seen as a big winner, growing sales 33 percent and ranking third in terms of sales. Apple saw its market position slip slightly in the fourth quarter, when it found itself behind Toshiba in the fifth-largest sales slot. For the year, however, Apple kept the fifth place ranking with 3.3 percent market share, according to IDC numbers.
Gartner said desktop PC growth was especially weak in established markets, with sales holding up better in emerging markets where cut-rate desktops sell better.
"Notebook computers now offer much of the functionality of desktops and consumers and businesses alike are spending the extra for the added benefit of mobility," Gartner analyst Charles Smulders told the E-Commerce Times. "In that sense, mobile growth is coming at the expense of desk-based PCs to some extent."
Looking Ahead
There are already several theories about what such growth will look like, however, with some predicting another strong year, particularly if Windows Vista is able not only to drive sales to consumers but also to spark a replacement buying cycle uptick among business customers.
In recent days, however, a weak outlook for Intel has sparked some concern about the health of the overall PC market, though a more upbeat forecast from AMD has assuaged some of those fears.
IDC is calling for 10.5 percent growth for 2006, a considerable slowing of growth compared to last year and cites several factors, including concerns about the health of key economies, including the U.S., where rising interest rates may put a crimp on some enterprise IT budgets.
During 2005, IDC boosted its forecasts several times as sales grew more than expected. Gartner did not issue a formal forecast for 2006, but Smulders noted that millions of business PCs last replaced during the upgrades leading to Y2K mean that another strong replacement cycle sparked by new platforms could help the PC industry keep sales strong.