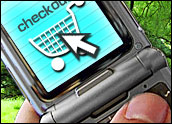 "Consumers don't think they want the wireless Web yet, but they will." So said Forrester analyst Patrick Callinan, explaining his firm's recent conclusion that there is "latent demand" for Internet-enabled mobile phones in the United States.
The study that uncovered the latent demand also pointed out that respondents from 34 percent of households surveyed said it was unlikely they would buy any cellular devices, and two-thirds of North American consumers said they were reluctant to make purchases using Internet cell phones.
Forrester is not alone in wrangling a positive outlook from lackluster findings. A bevy of wireless, handheld and mobile commerce promoters seem to be waging a campaign of misinformation to convince U.S. consumers that they are a whole lot more excited about accessing the Web from their cell phones than they think they are.
Exploding Market or High Hopes?
In August, Datamonitor predicted that the market for wireless e-commerce solutions in the United States will grow 1,000 percent to $1.2 billion (US$) by the year 2005.
But the report failed to caution "if, and it's a big if," when it went on to enumerate a number of obstacles to that growth: the lack of a single mobile telecommunications standard; low wireless device penetration across broad stretches of the country; high prices; erratic service; and lack of sufficient investment in third generation networks.
The Datamonitor report also raised the thorny security issue, concluding that it is a crucial factor in determining whether consumers will use wireless devices to buy online. Still, the research firm predicted a rosy outlook.
If They Build It
Earlier this year, Nortel Networks estimated that the global market for wireless infrastructure will reach $200 billion by 2003. In May, Aether Systems, Inc. and Visa U.S.A. announced an alliance to work on wireless e-commerce services, saying they expect the market for mobile e-commerce to "explode" in coming years.
About the same time, MasterCard disclosed plans to invest $5 million to help MIT's Media Lab develop new ways for mobile device users to pay for purchases. Those announcements followed an IDC (International Data Corporation) report that said by mid-2001, all of the mobile phones and handheld devices sold worldwide would be WAP- (wireless application protocol) capable, allowing for widespread Internet access and secure e-commerce.
Even if the IDC predictions are correct, that doesn't mean WAP-enabled cell phone owners will use them for m-commerce. Problems inherent in WAP technology have so far generated a good deal of consumer letdown.
Little Pictures, Long Waits
One huge problem is the tiny size of cell phone screens. M-commerce doubters feel that few e-tailers will succeed in effectively displaying their products on telephones and other small wireless devices. But even if they could, most cellular networks don't have sufficient speed to deliver the data in a reasonable amount of time.
Johan H. Larson, head of Internet operations for Stockholm's SEB bank, recently told the Washington Post: "Virtually all our customers use the Internet, and they all have mobile phones. "But then they try this WAP, and it is so hard! You go down, down, down all these menus, and you wait, wait, wait each time. You're straining to read text on this tiny screen on the phone. Eventually, people just give up."
But just days earlier, speaking to reporters at a media conference in New Zealand, Microsoft chairman Bill Gates said that XML (Extensible Markup Language) will solve many of the problems associated with WAP technology, smoothing the way for the Internet's extension to mobile phones.