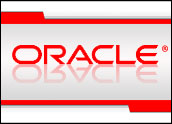 Citing strong revenue growth across its major product lines, Oracle said Thursday it would exceed its previous sales and profit forecasts for the current quarter.
The announcement from Redwood Shores, Calif.-based Oracle gave investors reasons for optimism that the strength would spread to other technology firms heading into the next round of earnings announcements.
Oracle shares jumped more than 5 percent in early trading Friday, to US$14.44. However, the impact did not immediately spread across the technology landscape, with the Nasdaq treading water after two days of strong gains. The good news from Oracle also was countered by investors concerns about Bill Gates' announcement that he would leave day-to-day operations at Microsoft within two years.
Oracle said new software license revenues jumped 32 percent in its fourth quarter, which ended on May 31, to $2.12 billion, exceeding the company's earlier guidance of 8 percent to 18 percent growth.
Licenses for its flagship database products were up 18 percent, while Oracle's applications business, beefed up substantially with recent acquisitions, saw the largest gains, with revenues in that product line climbing 83 percent. Even with results from its two most recent buys — Siebel and Retek — stripped out, Oracle said, applications sales were still up about 56 percent.
Higher Profits
Overall, Oracle said revenue was up 25 percent to $4.85 billion — based on its preliminary numbers — compared to its forecast when it reported third quarter results of 13 percent to 17 percent growth.
Profits will also come in ahead of projections, Oracle said, calling for 24 cents per share in earnings versus a forecast range 21 to 23 cents.
Oracle will formally report earnings on June 22, with analysts saying the company was likely eager to get the positive results on the street.
For Oracle CEO Larry Ellison, the results help bolster his argument that the nearly $20 billion Oracle has invested in applications firms such as PeopleSoft and Siebel Systems will be a boost for sales across the company's product lineup, including its original focus of database software.
The surge in revenue from database products was something that had not materialized and had been seen as a weakness in recent quarters for the company, which was seen relying mainly on the incremental boost from its acquisitions for growth.
Proving Larry Right
Though some have predicted Oracle would face trouble integrating so many purchases at once, stringing together some strong quarters could help silence those doubters.
Meanwhile, Oracle is showing no signs of letting up on its buying spree, which has included both major buys and the rollup of a number of smaller and more specialized software firms that will help Oracle build strength in key verticals and niche segments, said Gartner analyst Donald Feinberg.
"Acquisitions have been the foundation of their strategy and it's shown some signs of being effective for them," he said. In fact, the concerns that some raised about the uncertainty posed by buys such as PeopleSoft have not materialized, as Oracle has moved to offer clear pathways for migration to new product families.
Feinberg said Oracle is likely to invest in open source databases and applications as well as a hedge against that type of competition as well.
JMP Securities analyst Patrick Walravens said in a research note that Oracle is seeing particularly strong traction in sales of applications recently, with one major corporation said to be close to inking a deal that would include applications software as well as database products and which could be worth as much as $100 million in revenue for Oracle.
Others said businesses remain cautious about investing heavily in technology, with Morgan Stanley analyst Peter Kuper saying in a research note that the current marketplace remains "a difficult spending environment." He said Oracle's eye-opening results "will force investors to revisit their expectations" about the entire software and applications markets.