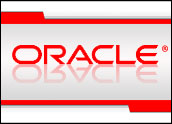 Oracle extended a run of strong financial performance with a blockbuster fourth quarter, outpacing estimates for growth and profit as CEO Larry Ellison's strategy of aggressively buying up applications vendors continues to pay off.
Oracle earned US$1.6 billion in the quarter that ended on May 31, compared to $1.3 billion in the year-ago period. It brought in 37 cents a share in profit, ahead of the 35 cents analysts were expecting on average.
The Redwood City, Calif. company's sales rose 20 percent from last year to $5.83 billion, ahead of the company's own forecast and the consensus of analysts.
"It was a great year," said President and CFO Safra Catz. For the full fiscal year, revenue was $18 billion, up from $3.6 billion in the previous year, before most of the recent acquisitions had been finalized.
Ellison, meanwhile, signaled he intends to continue the buying spree, which since 2005 has seen Oracle spend $20 billion to acquire software makers, especially those who produce business applications. Oracle closed deals to buy four more firms in the fourth quarter, a spree-within-a-spree capped by the $3.3 billion purchase of Hyperion Solutions.
More of the Same
Ellison continued to call out competitors by name in a conference call, saying Oracle had taken market share from IBM in its core database business and suggested that the company was growing far faster than its main application rival, Germany's SAP, the firm that Oracle had in its sights when it bought PeopleSoft in a controversial $10 billion deal. Ellison also pledged to continue to buy software makers. "I expect the pace to continue," he said.
"Our strategy … is clearly beating SAP's strategy of trying to build everything themselves," added Oracle President Charles Phillips. Oracle's new software license revenue growth in the applications area is 32 percent over the past year, compared to around 10 percent for SAP, he noted.
Still, the strategy of buying companies that have portfolios that overlap with Oracle's own products is not without its risks, Gartner analyst Bill Hostman told the E-Commerce Times.
"Oracle is sometimes slow to release a road map for the products it will offer going forward after these acquisitions, so some customers can find themselves groping for direction," Hostman noted. "Each overlapping deal creates the opportunity for customer confusion over what remains in the portfolio and what will go away."
That was a particularly thorny issue in Oracle's PeopleSoft buy, with Oracle slow to offer promises that the firm's applications would be supported post-acquisition.
Boosting Sales
Nevertheless, the results show that the merger spree has helped boost sales significantly and has diversified Oracle, giving it insulation against any dips in its core database business. "The real test is over the long haul, but clearly Oracle is gaining new customers and selling more software to the ones it already has," Hostman added.
As it continues to unfold, the acquisition strategy is likely to have its share of "twists and turns," said Ovum analyst David Mitchell.
"Oracle will surely expand the number of vertical markets that it focuses on and set out a new acquisition trail in those markets, potentially targeting markets considered to be SAP dominated," said Mitchell, who added that competitors are likely closely analyzing Oracle results to see exactly how the acquisitions are working to date.
While the recent trend has been for Oracle to acquire smaller firms, that may change, Mitchell added. "The market must also face up to the possibility of a totally left-field acquisition, taking Oracle into new markets entirely. Oracle has floated the idea of it attaining annual revenues of $50 billion. This will potentially require more than continued organic growth and numerous sub-$1 billion acquisitions. 2008 or 2009 could well signal another change of gear for Oracle."
Oracle also cited gains in its service business, with revenue from that division rising 26 percent to $1.08 billion for the quarter.
Upbeat Outlook
Though the fourth quarter is typically a strong one for the company, Oracle also issued an optimistic forecast for the current quarter, with CFO Catz saying new license sales could rise by 20 to 30 percent and revenue could increase 19 to 21 percent compared to a year ago. "We're looking for it to be our largest first quarter ever," Catz said.
One of the few downbeat notes in Oracle's results was the relatively weak sales in North America, where licensing revenues were up just 5 percent. Sales would have been nearly flat without the addition of Hyperion sales following the closing of that acquisition in April.
Oracle's domestic sales weren't as bad as they looked, the company said, citing a particularly strong quarter a year ago that set a high bar for comparisons.
Looking further ahead, a key development this year could be Oracle's release of its updated database platform. Oracle 11g is due later this summer and with database sales still accounting for nearly 70 percent of Oracle's annual sales, the release could provide a significant boost for the entire 2008 fiscal year, said Merrill Lynch analyst Kash Rangan.
The last major release helped keep database sales growth in double-digits for four years, Rangan told the E-Commerce Times, and the new release is expected to have more capabilities than previous iterations.
"Oracle's theory all along has been that more customers will buy more of its software and an upgraded database could become the centerpiece of a broader Oracle portfolio for many customers," Rangan added.
Oracle shares were up 1.2 percent in morning trading Wednesday to $19.39. The stock is up more than 10 percent since the beginning of the year, outperforming most of its software vendor peers.