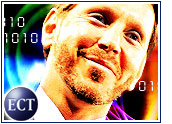 The number two software supplier Oracle said Wednesday it had beaten its ownconservative quarterly estimates and indicated the company's financialdownturn may be coming to an end.
Oracle's quarterly revenue of US$2.31 billion fell from last year's $2.38billion. But the figure still beat out Wall Street earnings expectations of 8cents a share on $2.2 billion in revenues, according to First Call researchfirm.
One of the company's main indicators of strength is in its licensing revenues, whichwere $765 million, a 7 percent drop from last year. License updates andproduct support revenues increased 8 percent to $954 million, as revenue from servicesdropped 11 percent to $590 million.
Database revenues inched upward from last year to $643 million, as Oracleapplications dropped 34 percent to $108 million. Overall, database salesrepresent 81 percent of the company's overall business, while applicationscomprise the remaining 19 percent.
End in Sight?
Oracle's CFO Jeff Henley told analysts in a conference call the company wasmore optimistic than it had been in two years since the industry took adownward turn. Henley also indicated the company may have "bottomed out."
Should Oracle be able to post higher total revenues in its third financialquarter than its year ago period, it would break a seven-quarter decline.
While Oracle has forecasted positive growth for the second half of itsfiscal year, said Mike Trigg, stock analyst for Morningstar.com, whether thecompany can meet those numbers in a "tough" next quarter remains to be seen.
"They are calling for positive year-over-year revenue growth next quarter, andthat backs up what they've said in terms of having seen a bottom," saidTrigg.
"Business has definitely improved, but we're far off from what I would deem arecovery in IT spending," he added.
Stock Upgrade
Robert Breza, analyst at A.G. Edwards & Sons told E-Commerce Times the firmupgraded Oracle stock from "hold" to buy today after yesterday's earningsannouncement.
Breza pointed to a database revenue increase of 18 percent sequentially, whilethe applications business rose sequentially 4 percent, and indicated the rateof the company's decline has "slowed."
A reorganized, more specialized North American sales force, along with ananticipated improvement operating margins and economic outlook in general hasled the firm to push Oracle's stock rating higher.
Cost-Cutting Measures
Oracle's second quarter operating margin was at 34 percent, equal to lastyear, while the company has reduced its workforce by 850 jobs this quarter.
Henley reportedly anticipated that the company will lay off several hundred moreemployees next year.