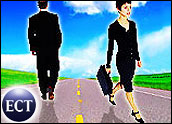 Openwave Systems, a top provider of software solutions used in the communications industry, has rejected an offer to be bought out and taken private, bucking a recent trend that has seen scores of companies swallowed up by private equity firms.
The Redwood City, Calif.-based company's board voted to reject the unsolicited offer made by two funds managed by Harbinger Capital Partners, Openwave said. Harbinger had offered to buy just over 40 million shares of Openwave stock — a 49 percent interest — for US$8.30 per share. The all-cash deal was worth about $335 million.
The tender offer came a few weeks after Openwave announced in late March that it had hired Merrill Lynch to advise it on its strategic options, which was widely believed to include an outright sale of the company.
Openwave's decision to reject the offer came after advice from Merrill, and after the board found the offer "inadequate and not in the best interests of Openwave and all of its stockholders," the company said.
Disappointed investors sold off the company's stock on the news, with shares falling 17 percent in afternoon trading Tuesday to $8.61. The stock had risen as high as $13 in recent weeks as anticipation of a possible deal grew.
Strategy Over Sale
The would-be buyers can still pursue the tender offer, but would likely face an uphill battle without the backing of the board and with the strong suggestion that the company could garner a better offer from another buyer.
The offer "undervalues Openwave," said Bernard Puckett, chairman of the Openwave board. "The Board believes that implementation of Openwave's stand-alone plan will generate greater value for stockholders than Harbinger's offer."
The board cited the company's own strategic plan as a better alternative to the sale of a controlling interest to a third party. That plan includes cost-cutting that will save up to $50 million a year, including a 20 percent reduction in the company workforce.
The strategic initiative also calls for double-digit revenue growth through 2010 and paying shareholders up to $100 million through a one-time cash dividend. The board also indicated that some of its assets could be sold or spun off to create more shareholder value.
Openwave's board also felt the Harbinger offer came with too many conditions, with some 13 in all, including options for the buyers to get out of the deal if certain benchmarks were not met.
Bucking the Trend
In rejecting the offer, Openwave is bucking a recent trend that has seen a number of high-profile public companies sold off to private equity interests. The take-private deals often offer shareholders a significant premium, however, and usually involve buying all of a company's shares.
Last month, a private equity interest bought Alltel Wireless for $25 billion; this week, the onetime Lucent spinoff Avaya, which makes telecom gear, agreed to be taken private in a deal worth $8.2 billion.
Those tech deals follow a larger trend of big-time buyouts driven by a flood of private equity, noted Peter Cohan, president of Peter S. Cohan & Associates, and harkens back to a similar slew of deals in the 1980s.
While Openwave has its own plan to cut 20 percent of its workers from its payroll, Cohan noted that take-private buyers often cut even deeper and don't have the same relationship with their workforces. "The buyers are going to seek savings, and the fastest way to do that is to cut," he told the E-Commerce Times.
Openwave's software solutions, which help telecom carriers and others deliver more services — a dozen of the top mobile carriers employ its technology — should be in heavy demand, given the growth of mobile communications and emerging opportunities in delivery of music and other services. The company's growth targets are expected to be easier to hit, while its cost-shaving moves are more risky.
Openwave's best option may be to entice another buyer to step forward with a better offer, Wedbush Morgan Securities analyst Scott Sutherland told the E-Commerce Times. Both other private equity firms and strategic buyers — such as IBM, Nokia and Alcatel-Lucent — are other possible selling partners for Openwave, he noted.