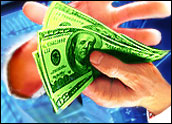 The forces of digital evil could be lurking nearby at any time.
Those forces show up in the form of Internet fraud, and even those who should be protecting you are coming up short in the war on the perpetrators.
Some encouraging news did come Wednesday, when U.S. agencies filed charges against 90 people and companies for allegedly committing fraudulent acts against approximately 56,000 people via the Internet.
Whether this represents the true shape of things to come remains to be seen. In the meantime, here's a note to online sellers and buyers: don't get too comfortable.
Just one day before the FBI made its splashy announcement, a report from the General Accounting Office (GAO) detailed big problems within the National Infrastructure Protection Center (NIPC), an agency created by former President Bill Clinton to battle hackers.
Where Is Everybody?
According to the GAO, due to severe staff shortages, the NIPC has been lax in finding and reporting computer viruses to businesses and the public until significant damage has already been done.
Founded as a 24-person agency, the NIPC is evidently running with just 13 employees. Vacancies include critical management positions, such as leadership of the Analysis and Warning Section — the division responsible for finding and reporting viruses.
Even if Clinton's intentions were solid, recent execution of the agency's responsibilities has been inadequate.
Skeptical Consumers
The GAO report fueled the lack of trust of online transactions felt by an already skeptical consumer base. The report also further tarnished the image of an e-commerce industry that has suffered an inordinate number of closings and unprecedented industrial financial fallout.
Meanwhile, the Internet Fraud Complaint Center (IFCC) this month issued its own dreary findings about Internet auction fraud. According to the IFCC, of the 30,000-plus complaints it has received, 64 percent relate to auction fraud. From January to April of this year, such complaints to the IFCC have resulted in $3.2 million in consumer losses.
It is an interesting figure, particularly when total consumer losses related to IFCC auction fraud complaints for the entire year 2000 equaled about $4 million. That is a staggering escalation. Reportedly, Wednesday's action by the IFCC addressed a number of cases involving auction scams.
One wonders how many instances of auction fraud have gone unreported. With more than 1.3 million transactions a day on Internet auction sites, the odds are that there are significantly more cases of fraud than those reported to the IFCC.
Perfect Crime?
So, with agencies founded to protect us falling down on the job, and hugely popular auction sites becoming breeding grounds for systematic swindles, is there any hope?
In a word — according to online merchants — yes.
A study released last month by the Worldwide E-Commerce Fraud Prevention Network found that nearly half of e-tailers believe that fraud prevention steps can minimize the risk of incidents.
As expected, the largest percentage of respondent companies use an address verification system to fight fraud, while slightly more than half use real-time authorizations for each transaction.
Potential Fallout
While perpetrators may feel invincible due to technology glitches and the thrill of online anonymity, it appears smart merchants are aggressively addressing the potential of online fraud.
As fast as hackers do their deed, downloading proprietary information, customer databases and credit card information, governmental agencies and individual merchants are diligently ferreting out new world criminals.
That's encouraging, because at a time when consumer confidence in online purchasing is critical, frequent swindling of online buyers could set e-commerce back several giant steps.
Bottom line: maybe someday, e-tailers can feel comfortable with the effectiveness of the fight against online fraud. But for now, it's time to keep working.
What do you think? Let's talk about it.

---
Note:
The opinions expressed by our columnists are their own and do not necessarily reflect the views of the E-Commerce Times or its management.
---