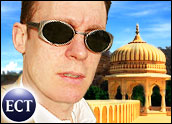 There are four lessons for U.S. firms setting up operations offshore, beginning with the need for good market positioning, having enough American trainers on the ground, emphasizing quality over quantity, and the need to export American corporate culture overseas rather than have offshore facilities adapt to local workplace culture.
These lessons are based on the experiences of a Texas firm that built its own call center facility in Islamabad, Pakistan. In early 2005, this Fort Worth company's offshore facility became the first call center to make a profit in Pakistan.
The experiences of Touchstone Communications are relevant for any U.S. firm establishing customer service operations offshore, whether in a standalone facility or through a contractor. Its lessons in quality and their experiences exporting American corporate culture are relevant for software operations, hardware support and the full scope of customer service operations that might be conducted remotely.
The first lesson is from their early days, when they tried to be all things to all people.
First Lesson: Market Positioning
Market positioning is the cornerstone of competitiveness. In order to distinguish itself from huge call center companies, Touchstone now focuses on a single industry vertical where it can leverage its expertise. Enterprise software firms often adopt a similar strategy by building products tailored for a single industry vertical, rather than the mass market.
In Touchstone's case, it specializes in mortgage services, largely mortgage lead generation, mortgage processing, collections and bankruptcy processing. This specialization gives Touchstone a synergy and a depth that distinguishes it from general call center services providers.
For the first six months after Touchstone went live in July 2003, the center ran a variety of disparate customer contact programs that did not complement or support each other. After six months, it put together a strategic vision, jettisoned unrelated programs, improved client satisfaction and simplified the management of the center.
Now Touchstone sees itself as a financial services firm that happens to own a call center, rather than a call center company.
Second Lesson: Put American Trainers on the Ground
"A key mark of success is the willingness of a U.S. firm to relocate Americans on the ground in an overseas support center," Touchstone President Mike Meyer said. "To expect local people overseas to know how to satisfy Fortune 1000 firms is a leap of faith," Meyer said.
When they launched their facility in July 2003, there was just one American offshore, a general manager. Now out of a total of 350 employees offshore, four are Americans. Of those four Americans, three are trainers. Meyer and the firm's CEO, Tom Slone, also spend a lot of time at the facility, where they also provide training.
Third Lesson: Quantity Always Follows Quality
This is a particularly difficult lesson for Americans to learn. Slone's mantra is: "Quantity always follows quality, and quality never follows quantity." To Sloan, this means getting things right on a small scale first, before scaling up. It means not throwing a lot of agents on a program right away and then assuming that the quality can be corrected later.
This lesson is particularly important for clients, who might be under pressure to achieve instant scalability and who have not budgeted for extended ramp up and shakedown periods.
Meyer said that it is crucial to achieve quality on a small scale at the beginning of a project, "Even if you are losing money with four people, even if it takes weeks to get it right." The alternative, Meyer said, "will only lead you back to trying to achieve an acceptable level of quality with a small number of agents."
Touchstone's approach to quality has contributed to its backlog of client volume. It has enough new work queued up to double the size of its facility tomorrow, but instead is doing a controlled expansion of 30 to 40 new staff per month. By the end of 2005, it anticipates having 600 people and expanding out from its current facility.
Fourth Lesson: Export American Business Culture
Any time a business from one country sets up operations in another country, there will be issues stemming from the two countries' workplace cultures. At Touchstone, these issues came to a head when their Texan trainer, Babs Deeds, showed up in Islamabad after spending about 20 years as a trainer for UPS.
Deeds instituted American workplace standards and an American-client-oriented curriculum. There initially was some reluctance by local staff to accept these standards, since they contrasted with traditional South Asian workplace practices and expectations.
The reluctance that Deeds and other American managers faced in introducing American workplace culture led to an epiphany by those managers, who declared that they had not put Americans offshore for the purpose of making those Americans adapt to other workplace cultures, but rather to export American corporate culture.
It was a lightening bolt to the Americans, telling them that they needed to develop a local management cadre overseas that adhered to American principles and values in the workplace.
Touchstone saw that if they were to be successful, then they needed to create and maintain a truly American workplace culture throughout their offshore management and staff. Now their recruiting advertisements invite prospective hires to: "Work in America without leaving Pakistan."
How To Transfer American Culture
At Touchstone, it took 18 months to train local managers in American workplace culture, to empower them to think and act independently and proactively, and to challenge the status quo.
Women in South Asian societies usually do not have the same training to become managers as men, so Deeds ran a special eight-week training program for women to become managers at Touchstone. Out of the nine initial participants, four have stayed with the firm and have been promoted. There is often a reluctance in South Asian families to have women work at night, and this is a major reason for women's attrition at customer service centers that serve U.S. clients.
In Touchstone's experience, training provided by Americans onsite is a key to success and empowerment of all staff.
According to Meyer, the talent pool in Pakistan is very smart, and with a strong desire and motivation to learn. "They have a staggering capability for conceptual learning, especially if you expose them to ideas," Meyer said.
---
Anthony Mitchell
, an E-Commerce Times columnist, has beeninvolved with the Indian IT industry since 1987, specializing through
InternationalStaff.net
in offshore process migration, call center program management, turnkey software development and help desk management.
---